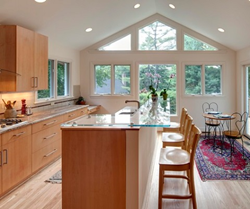 Kitchen islands are not merely decorations, they're also modular problem solvers that can be custom designed to supplement and enhance the existing kitchen.
(PRWEB) July 15, 2014
HomeThangs.com – the Online Home Improvement Store has made their goal to deliver the right product to the consumer. With that in mind, shopping and home design tips, as well as special product selections are being introduced.
In recent years, kitchen islands have become something of a trendy statement piece, emblematic of the trend towards larger, more open kitchens. But a good island isn't just a fancy centerpiece, it's an opportunity to make up for a kitchen's shortcomings, supplementing everything from storage space to seating. HomeThangs.com has introduced a guide to building a kitchen island that will enhance a kitchen and fill any gaps in the existing design.
Almost all kitchen islands are designed to provide added seating, usually with an extended ledge and room for eating and room to store bar stools underneath on one or more sides of the island. The size and number of seats needed depend on how many people will eat there (and the size of the kitchen!), but often islands offer a great way to gather the family in one space for dinner prep and meal time.
Kitchen islands are also great for building an informal breakfast area. Having one or two seats rather than a full set is nice for simply spending time in the kitchen – sitting down to a leisurely breakfast, having a chat with someone while they're cooking, or even sitting down while waiting for something to come out of the oven or double checking a recipe. This type of seating also works great as a homework station for kids, keeping them in sight but not underfoot.
Then there are kitchen islands that are all about increasing storage space. Unlike kitchen cabinets, which are generally pretty uniform, kitchen islands can be totally customized to fill the gaps in whatever type of storage the kitchen happens to be lacking. Often, that means more cabinets, but it can also mean deep drawers, built in spice racks, wine racks, bookshelves, or even an open shelf at the bottom for easy access to pots and pans, bulky mixing bowls, or pantry items. Whatever the rest of the kitchen can't accommodate, the island can be designed to store properly.
Kitchen islands are also a perfect spot to install a few extra appliances. That can mean traditional appliances – like a microwave, oven, dishwasher, or even a range top – or something a little more specialized, like a wine cooler or mini fridge, a trash compactor or composter, or an ice maker. Building appliances into the island rather than elsewhere in the kitchen makes it easier to prioritize what goes where, optimizing the accessibility of both appliances and storage.
One of the greatest benefits of having a kitchen island is the added surface space. More counter tops means more usable prep area, and this is one of the things that kitchen islands do best. That said, incorporating a sink – either a primary kitchen sink, a secondary sink, or a petite prep sink – doubles up on the usefulness of these extra counters. Building a sink into the island can improve the kitchen's work triangle, or allow multiple people to do cooking prep work without competing for sink space. Some homeowners even choose to install an entire separate baking station, complete with marble work surface and a small sink to keep the kitchen better organized and cut down on trips back and forth across the kitchen.
The best thing about kitchen islands, though, is that they can fill many or even all of these functions at once. An island doesn't have to be all seating or all storage, and even on relatively small kitchen islands there's a lot of room to customize. Think of kitchen islands not as decoration but as modular problem solvers: they can be designed in any size and shape, with any combination of features depending on the needs of the kitchen.
For more ideas about how to design a custom kitchen island, check out the full article here.
HomeThangs.com is not only a home improvement superstore, it also provides expert design tips and a comprehensive shopping guide, taking the ideas from professional interior designers, and offering tips to the consumers on how to pick the products to best suit their needs.