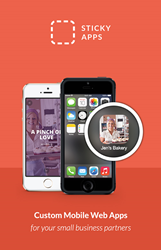 StickyApps gives professional photographers a new way to make money by empowering them to bundle their photography with custom mobile websites, which they can sell on a monthly recurring basis to small businesses in need of a website. - Nate Grahek, CEO
St. Paul, MN (PRWEB) November 14, 2015
StickyAlbums announced that it has launched StickyApps (http://www.getstickyapps.com), which gives professional photographers the ability to create custom mobile web apps featuring professional photography for small businesses in their area. In the short time since coming to market, hundreds of photographers have signed up. View a sample StickyApp at http://www.getstickyapps.com/sample.
On August 1, 2015, Professional Photographer magazine awarded StickyApps with the prestigious Hot One Award. The Hot One Awards signify the best products and services in the photography industry. This is StickyAlbums' second Hot One Award; last year StickyAlbums received a Hot One Award for its flagship product, StickyAlbums.
More than half of the 28 million small businesses in the United States don't have a website. Small business owners are busy and frequently do not have time to use the do-it-yourself web builders on the market. At the same time, web design agencies often charge $10,000 or more for a custom website which is out of the budget of many small businesses. For those small businesses that already have websites, many are outdated and difficult to view on mobile.
"With StickyApps, we have created a new way for photographers to make money by selling mobile marketing web apps bundled with photography services on a monthly recurring basis, rather than an up-front fee," said Nate Grahek, CEO. "Using compelling, professional photography on websites has been demonstrated to influence customer purchase decision more than client testimonials or product details. It is a win-win for photographers looking to stabilize their revenue and businesses looking to stretch their marketing budget."
StickyApps' payment platform allows photographers to charge small businesses for a StickyApp bundled with photography services on a monthly or annual basis at a price point of the photographers' choosing.
"Being a part of StickyApps has given me the ability to create steady income while working in a very seasonal profession," said Josh Fisher, a professional portrait photographer in Oklahoma City who was a part of the StickyApps pilot group. "StickyApps look incredible and professional for any business. I love it and my clients love it."
About StickyAlbums
StickyAlbums (http://www.stickyalbums.com) is a technology company started in 2012 and based in St Paul, MN that helps over 6,000 professional photographer customers book more clients. Mobile apps created on the StickyAlbums platform have been viewed more than 3 million unique times. View a sample StickyAlbum at http://moblalbum.com/wedding.