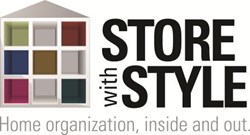 We want our website and web presence as a whole to show our customers all of the possibilities available when it comes to organizing their home.
Mentor, OH (PRWEB) August 23, 2013
Despite the rise of the big box store, it is not unusual anymore to find small family businesses still thriving in their local communities. A prime example in the Cleveland, Ohio area is custom storage solutions provider Store with Style. After re-branding the business from Garage Outfitters of Northeast Ohio and bringing their sons on board as craftsmen, Kathy set out to update the company's presence online.
"We want our website and web presence as a whole to show our customers all of the possibilities available when it comes to organizing their home," said Kathy. "Most homeowners come to us looking for help with their garage or closet, but we also show them how we can organize the mud room, laundry room, and other areas of the home."
On the Store with Style website, homeowners will learn about the options available for organizing just about any room in their house. The website showcases examples of storage solutions the Wallace family has installed for garages; closets and bedrooms; home offices; laundry and mud rooms; as well as family and recreational rooms.
Store with Style uses powder coated wood garage cabinets from RedLine Garagegear to organize the garage. Working with components from the RedLine Closet Systems line, Store with Style is able to create the storage solutions it installs in all the other areas of the home. Both RedLine Garagegear and RedLine Closet Systems are the child companies of Greenberg Casework Company Inc.
But Store with Style is so much more than just a home organization system provider. The Store with Style website also shows off some of the custom furniture built by their master craftsmen. Beautiful wine cabinets, hutches, entertainment centers, kitchen cabinets, and kids' beds are all a part of their repertoire.
Also featured on the website is the annual charity fundraiser event Store with Style has participated in for three years running. The Wallace family donated closet systems, garage cabinets, a wine cabinet, a laundry room system, a master bedroom breakfast bar, and a nursery system for the 2013 Lake County YMCA Dream House raffle. This year's fundraiser sold over over 60,000 tickets and over the 20 year history of the event has raised nearly $4 million for local YMCA facilities throughout Lake County in Northeast Ohio.
The Wallace family plans to continue expanding their website with a blog and more images of their work. After several years of business, Store with Style relishes the continued challenges presented by customers who want a piece of unique furniture or a custom storage system. The blog will give homeowners an opportunity to see what Store with Style has to offer and also pick up some great advice and tips on increasing their space or using it more efficiently.
When you are done taking in all of the wonderful images of organized areas found on the Store with Style website and have an idea of what you will want in your home, you can schedule a design consult with a Store with Style designer by filling out a simple form. There are also reviews from previous customers who have been utterly impressed with the work the Wallace family has done for them.
Homeowners in the Northeast Ohio area can visit the Store with Style showroom at 8250 Tyler Boulevard Suite E Mentor, OH 44060. And be sure to check out their website to get inspired to organize your home!