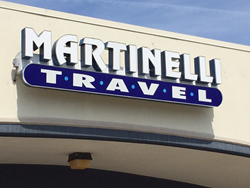 (PRWEB) May 29, 2015
Martinelli Travel is proud to announce that the agency, along with owner and operator Faye Sell, has once again been honored with the Golden Apple Award by Apple Vacations. This award signifies stellar professionalism and performance, and Martinelli Travel has been the recipient of it for the past seven years.
For 26 years, Martinelli Travel has made travelers' dreams come true, helping families, newlyweds and individuals plan and enjoy honeymoons, destination weddings, family vacations, romantic holidays, cruises and more. With "one-stop" red carpet service, the company is one of the oldest full-service travel agencies in New Hampshire.
Sell and her staff work closely with clients throughout New England and beyond. The well-trained travel consultants maintain a reputation of providing a high standard of excellence while saving their clients the time and effort required in choosing the perfect travel destination. The consultants strive to find clients the best prices on all their travel needs, whether it be family vacations, Caribbean packages, European travel and more.
Sell prides herself on being passionate about making her clients dreams come true and often stays in touch with clients even after travel has been completed. She also takes pride in the fact that she gets referrals from referrals.
"It is all about the service, the trust and the confidence that our clients have in us due to the many years of experience that we offer," said Sell.
Martinelli Travel will work with groups of all sizes, including those over 100 people, family reunions or friend reunions. They can customize travel to Europe for any size group and will plan the entire itinerary within the client's budget.
Destinations weddings have become a very cost-effective way to plan a wedding. Martinelli Travel plans many destination weddings each year. Sell consults with the bride and family to come up with the perfect destination for a perfect day. From flights to the ceremony, "Leave all of the details to us!"
Sell is also very involved in the community. She has been a member of the local Rotary Club for more than 20 years. She is very passionate about being a Rotarian and "making a difference." She is also involved with the Londonderry Business Consortium Group, the Londonderry-Derry Chamber of Commerce, and the Londonderry Commerce and Visitor's Center.
About the company:
Martinelli Travel is one of the oldest full-service agencies in New Hampshire, and their client base extends throughout New England and beyond. Their staff consists of well-trained, experienced travel consultants who have the reputation of providing a high standard of excellence in the travel industry. Martinelli Travel's mission is to provide personalized service and support before, during and after the planning of a honeymoon, a family vacation, a romantic holiday, a cruise or any other travel adventure. For more information visit their website at http://www.martinellitravel.com.