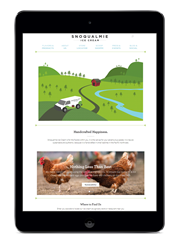 Seattle, WA (PRWEB) April 30, 2014
Seattle online marketing firm, Efelle Creative, recently completed the website redesign project for local company, Snoqualmie Ice Cream. Snoqualmie Ice Cream crafts the most perfect custard, gelato and sorbet. The all-natural pints are handcrafted in small batches using local milk and cream and non-GMO cane sugar. Snoqualmie Ice Cream believes in simple ingredients without any gluten, hormones, preservatives or artificial flavors. Snoqualmie offers their product to hundreds of retail groceries, restaurants and ice cream shops across the Pacific Northwest.
Snoqualmie Ice Cream teamed up with Efelle Creative to create a professional, modern, and highly-branded custom website design that generates excitement about their famous all natural products. In addition to showcasing their unique flavors, the new website also incorporates a store locator, so that customers could look up grocery stores, restaurants carries Snoqualmie Ice Cream products. For this project, Efelle worked with Snoqualmie's marketing team to design an interactive website that incorporates elements of Snoqualmie's brand while also providing a great user experience. Snoqualmie's new website is powered by Efelle's website content management system, FusionCMS, and utilizes their CatalogFusion platform which allows Snoqualmie to showcase their delicious, natural products, while also building organic SEO. Other site features include an 'About Us' video, an events calendar, a company blog and more.
To check out Snoqualmie Ice Cream's new website, visit http://www.snoqualmieicecream.com.
To learn more about Efelle, visit http://www.seattlewebdesign.com.
About Efelle Creative
With more than 450 successfully completed custom website design and development projects under its belt, Efelle Creative continues to work with a variety of business entities in dozens of industries, from start-ups, non-profits, and local small businesses to large national and international corporations. In addition to its product catalog website platform, Efelle Creative also offers other custom online marketing solutions including web design and website content management for professional service firms, law firms, real estate industry companies, chambers of commerce, and more.