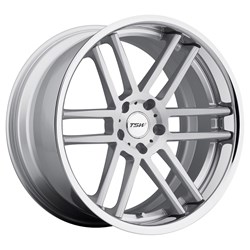 Our lineup of staggered wheels makes it easy to enhance their vehicle's performance and street appeal.
Huntington Beach, CA (PRWEB) November 30, 2013
The staggered-size wheel and tire combo concept, pioneered by such paradigms of performance as Porsche and Corvette has expanded dramatically in the past decade, as more and more vehicle manufacturers recognize the performance advantages on mounting slightly wider rubber on the rear axle. In the automotive aftermarket, TSW Alloy Wheels has long championed this concept and now, with the introduction of the new 2014 Rouen wheel, has extended the industry's largest lineup of staggered wheels.
"Only TSW makes it so easy for owners of cars and trucks that came factory-equipped with wider sets on the rear axle to find fully compatible custom replacement wheels," explained TSW Alloy president, Terence Scheckter. "And for those owners with a more traditional layout, our lineup of staggered wheels makes it easy to enhance their vehicle's performance and street appeal," Scheckter added.
Scheckter explained that the staggered approach means more rubber meets the road at the business end of the drive train, improving traction and both linear and lateral acceleration. Staggered wheels also give a vehicle a more aggressive stance and a distinctly customized look. Accordingly, TSW offers the new Rouen in a wide array of sizes, with wheels in 18", 19", 20" and 22" diameters paired with rear wheels one inch to one and a half inches wider than front wheels. In fact, 18 wheel widths are offered in those four diameters. Five bolt patterns are available, making the Rouen compatible with an extensively wide range of cars, trucks and SUVs.
The Rouen is a progressive, yet timeless design, with six beefy split spokes. It is available in silver with a brushed face and chrome stainless lip, as well as in matte black. Like all TSW rims, the Rouen accommodates OE center caps and factory lug bolts, supports tire pressure-monitoring systems and are hub centric, for a smooth, vibration-free ride and longer tire life.
To make it easy for prospective customizers to preview how the Rouen, or any TSW Wheel, might look on their vehicle, TSW has created the "wheel configurator" tool on its website, at http://www.tsw.com. There, webizens can specify year, make, model and even color car they are interested in customizing and instantly see any TSW model wheel mounted on that vehicle. Under the "Explore TSW" tab, a wide library of car wheels photos submitted by customers provides a real-world snapshot of how TSW aftermarket wheels enhance just about any make and model on the road today. Extensive technical specs are available on each of the 31 TSW wheel models.
For a nearby dealer, customers can call 1 888-766-7775 or search by zip code on the TSW.com website. TSW Alloy Wheels dealers are located throughout North America and worldwide, including Discount Tire Direct on the web at discounttiredirect.com/.