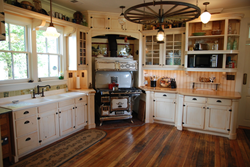 The budget line is competitively priced when compared with cabinet lines at big box stores, but comes with expert installation and consultation.
Longmont, CO (PRWEB) May 21, 2015
Longmont woodworking shop, Jordan Woodworking, is expanding their services to include three new lines of cabinetry. Since 2003, Jordan Woodworking has specialized in custom woodworking services, offering everything from high-end furniture, to custom cabinets, to moulding and millwork. An established local business, Jordan Woodworking has a combined 55+ years of woodworking experience on their team. They are excited to announce the expansion of their current offerings to include new lines of cabinetry, which is a benefit to homebuilders and interior designers looking for more cabinetry options for their clients.
These new offerings include an innovative budget line that offers the best cabinetry option to budget-conscious consumers who want the custom experience for a low price. According to owner Alexander Jordan, "The budget line is competitively priced when compared with cabinet lines at big box stores, but comes with expert installation and consultation."
The new budget cabinetry line has solid wood (maple) fronts and comes in 9 finishes. It also comes with exceptional hardware, soft closing hinges, slides, and dovetailed maple drawers. Additionally, lead time on cabinet orders is 3 weeks, which is half of what big box stores offer (normally 6-8 weeks). Jordan Woodworking will work with their clients to find a perfect installation schedule.
Their second line of new cabinetry is aimed at the custom-minded client. This hybrid line combines the best that Jordan Woodworking offers into one specialized package. There is no limit on color combinations or finishes, and it combines pre-made cabinet items with custom cabinet pieces made by Jordan Woodworking. This line promises the client's dream cabinetry at a competitive price.
Their third new cabinet line is aimed at the luxury consumer where the sky's the limit. Shop foreman, Duane Chase, thrives in a custom project. According to Jordan, "What Duane is capable of is really the highlight of our luxury customer. He's able to build whatever I can draw. He's simply amazing." This luxury line is open to any dream design or personalization. The expert team, led by Chase, will oversee the entire process, from design to installation. They strive to integrate traditional joinery, old-school construction and design standards, with modern materials and techniques. They also provide their clients with sources of locally, sustainably harvested woods, and they can work with exotic tropical hardwoods, too.
Jordan Woodworking is excited to offer the best to any potential client. Whether budget-minded, customer-focused, or simply looking to work with the best, Jordan Woodworking will provide the highest quality service and woodworking services. They also offer cabinet repairs, part replacement, and some refinishing. Without the impersonal and high-pressure showroom experience, Jordan Woodworking is able to add a warm and inviting touch to their work. Contact Jordan Woodworking by phone at (303) 827-3575 and be sure to visit their website at http://www.jordanwoodworking.com.