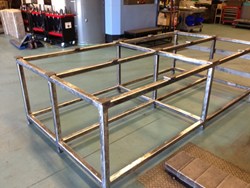 Laconia, NH (PRWEB) August 06, 2013
Laconia, NH based metal fabrication company Baron Machine Company has announced a new tuition reimbursement program aimed at furthering the company's existing initiatives to enhance and innovate its metal fabricating capabilities.
According to company Vice President Jeremy Baron, "We are encouraging many of our employees to sign up for the "Advanced Manufacturing Program" at the Lakes region Community College." He adds, "We also have a tuition reimbursement program that we are encouraging employees to take advantage of."
Regarding this initiative, Baron explains that offering new education opportunities to employees is a win-win for Baron Machine Company and its clients. "Apart from using this opportunity to give something back to our employees, encouraging them to stay current on the latest technologies can only benefit our company and our customers. The industry is constantly changing, and if staying ahead of the curve in terms of innovation, efficiency, and precision requires a little more time in the classroom – that's an investment we're happy to make."
Baron Machine Company has used its custom metal fabrication services to serve a number of industries ranging from aerospace and alternative energy to the defense and medical industries. Baron explains, "Welding frames and providing complete welded assemblies for custom fabrications has remained a core component of our business." He adds, with new programs for continued education, Baron Machine Company can continue to "meet and exceed the expectations our customers have for precision and efficiency."
For more information on Baron Machine Company or the company's custom metal fabrication capabilities, call 603.524.6800 or visit http://www.baronmachine.com
About Baron Machine
Baron Machine opened its doors 55 years ago as a company that would provide the highest quality machining and fabrication work available to its customers. These initial ideals are still applied today as Baron strives to inspire customers to let the Baron family use their expertise to help them reach their goals. Throughout the entire history of Baron Machine the company has remained a family owned and operated business. Baron Machine is located at 40 Primrose Drive in Laconia, New Hampshire.