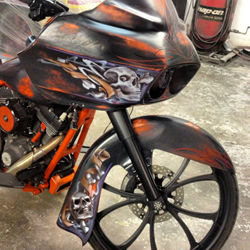 Dallas, TX (PRWEB) March 11, 2014
Linear Automotive recently expanded its Motorcycle Division to include custom motorcycle paint by some of the most talented artists in the world. These professional bike painters have had their bikes on magazines covers and winning bike shows across the nation. Due to increased demand for quality custom painted motorcycle parts, new motorcycle lifts were recently installed at the Motorcycle Division in Texas. Visit online at http://www.LinearAutomotive.com/motorcycle-paint.html.
World class technicians are now able to offer hand painted motorcycle parts for Harley Baggers, as well as all other makes and models like Indian or Victory, and even sport bikes like Honda, Yamaha, Suzuki, Kawasaki, Aprilia, and Ducati to name a few. Every type of motorcycle painting is offered, from simple one color to the most extreme one off design, any biker can get exactly what they want.
Anyone looking for a custom Harley paint job in Dallas will be quite pleased with the new state of the art facility. The Italian style down draft booth leaves a showroom finish every time. Finding the best motorcycle painters in Dallas – Fort Worth for saddlebags, gas tanks, side covers, front or rear fenders, chin spoilers, and fairings on Harley-Davidson and all other models just became real easy.
Painting a custom bike in the Dallas – Fort Worth area is especially rewarding when that bike wins a competition. Producing unique and original show stopping designs is what these experts do. Whether it's a sport bike, chopper, bobber, bagger, shovelhead, cruiser, touring, vintage, or any other model, these guys can design it, and make dreams come to life.
Hand painted custom motorcycle pinstripping for Harley, Baggers, and all other makes and models is also available. Airbrushing and hand painted motorcycle graphics look great on Harley & bagger parts when done by an expert. Custom hand airbrushed graphics and designs include skulls, women, faces, flames, dragons, chains, tribal, murals, blades, and much more. There is no limit for these distinguished artists. If it can be imagined, then it can be sketched out and brought to life.
Custom painted artwork for Harley Baggers has become the norm for bike shows & competitions. Popular bike magazines like to present awards for unique bikes with custom motorcycle paint designs. Painting motorcycles with airbrushed artwork can really make a bike stand out from the rest. There are many specifics which must first be addressed before someone can paint a motorcycle. Custom motorcycle paint colors must be chosen carefully in order to create the right look and feel for the bike.
Before painting a motorcycle the owner and artist will come up with an inspiring design by sketching it out first and then adding color. Custom motorcycle paint colors must be chosen carefully in order to create the right look and feel for the bike. Before applying new motorcycle paint, all the parts are usually removed from the bike.
The motorcycle division offers the best custom Harley-Davidson paint for all models. There are many models that have been transformed including touring, fat boy, road glide, street glide, baggers, bobbers, and pro street just to name a few.
The motorcycle division of Linear is one of the best custom motorcycle paint shops in the country. Visit the website to see all the different makes and models that have been done. Some of the clients that had bikes painted actually made first contact when calling in to ask how to paint a motorcycle in the best possible way.
Custom motorcycle graphics look best when applied by hand using an airbrush. This technique requires a high skill level and extremely steady hands. Baggers are some of the most fun bikes to design because there is so much real estate to work with, especially when there is a front fairing. Custom motorcycle airbrushing on a front fairing can really set off a bike in an awesome way.
Custom hand painted bagger parts can create a show stopping look and feel when the right person is producing the design. Also keep in mind that it takes a really good builder to produce a beautiful bike for the graphic designer to work with. Some bikes are even built with specific parts to work around a graphic design & color scheme. All factors must be accounted for before embarking on a project as tedious as creating a unique one off design for a Harley Bagger.
Custom painted motorcycle parts always seem to catch the eye of everyone passing by. The pros in the Motorcycle Division at Linear Automotive offer hand painted Harley Bagger parts to produce a competition quality bike with show stopping results. For more information call 972-633-2201 or visit online at http://www.LinearAutomotive.com/motorcycle-paint.html.