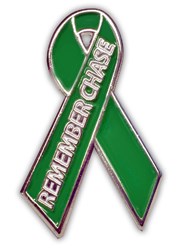 "May these playgrounds provide a symbol of hope, recovery, and a return to normalcy." -The Sandy Ground mission statement
Chicago, IL (PRWEB) August 30, 2013
Custom pins are commonly used to mark important milestones in the lives of individuals or in larger organizations and companies. But they are not as commonly used in the way that organizers of the Sandy Ground Project, which is building 26 playgrounds in cities that were in the direct path of Hurricane Sandy, which destroyed thousands of structures in the Northeast. These playgrounds will be dedicated to each of the fatalities in the Newtown, Connecticut shooting that took place last December.
One playground in particular, in Normandy Beach, New Jersey, will be dedicated to one victim, Chase Kowalski, a kindergartener from Newtown. His family had custom lapel pins created in his honor to help raise awareness for gun violence, and also set up a charity fund to benefit local family and community initiatives in their area. One of these custom pins now rests in a concrete cornerstone of the playground, to pay tribute to his short life, and to remind others to live their lives to the fullest.
PinMart was extremely humbled to have played even just a small part in the healing of the Newtown community, and the Kowalski family in particular. Their dedication to awareness causes is a major component of their company's mission, and they are honored to have been chosen to help further Chases's posthumous cause in the unique and positive way it is being executed.
About PinMart: PinMart, Inc. is a privately held company located in Mount Prospect Illinois, a suburb of Chicago, specializing in the design and manufacture of custom pins, emblems, embroidered patches, and emblematic jewelry. PinMart sells stock products via its online store and offers custom design and manufacturing. PinMart has taken advantage of its well-positioned internet presence and now boasts a client list that includes over 300 of the Fortune 500 companies.