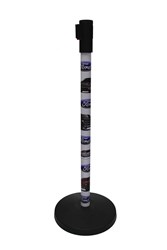 Tampa, FL (PRWEB) October 17, 2013
After extensive research and testing, Crowd Control Store is now releasing fully customizable retractable belt stanchions to the public. Our marketing experts collaborated with crowd control specialists for months to pioneer the technology that these stanchions implement.
These elegant, full color stanchion posts are great for a variety of crowd control and display uses and will launch your company's advertising to the next level. Custom stanchions include full color logos, text, photos, or anything else you would like on the posts. The stanchion's retractable belts can also be customized with your logo or text. Their contemporary slimline design combined with quality finishes and rich belt colors make it the most attractive retractable belt barrier in its class. These Stanchions are packed with features found on expensive high-end stanchions such as sturdy stainless steel construction which prevents rusting or denting, the slowest retract speed in its class, full circumference rubber floor protection, universally accepted locking belt end, and four-way receivers which make it compatible with most popular brands. Furthermore, its extended 10 foot retractable belt comes standard, saving your business money by requiring fewer stanchions to cover the same distance (We also offer 13 and 15 foot belts).
These full color customized stanchion posts come with a gloss or matte finish and a three-year warranty. This stanchion is a great investment that will surely draw in customers at a low cost, no matter what your business is.
For a full range of Stanchions, Barriers, Barricades, Traffic Safety Equipment, Plastic Stanchions, Wall Mount Units and much more, visit us online a t http://www.CrowdControlStore.com or call us at 866-715-6006.