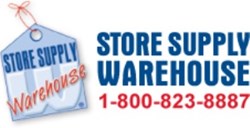 St. Louis, MO (PRWEB) December 05, 2013
Store Supply Warehouse now offers a custom sticker configurator on its website for retailers and shopkeepers. The configurator allows retailers to advertise their company brand, upcoming events, and new products. Not only are stickers an easy form of advertisement, but at Store Supply Warehouse, the stickers are economical as the minimum order size is 100.
Store Supply Warehouse offers several different styles to help store owners choose the best option for their brand including; sports themes, general usage, seasonal, elegant collection and animal textiles. The configurator offers three sizes to choose from with a variety of finishes on all of our stickers. In fact, the custom sticker configurator provides thousands of templates to choose from, so that each custom sticker is one of a kind.
Stickers have always been a unique way to get a customer interested in a particular idea, brand, product or company. Used correctly, stickers can also have a great effect on shoppers. With various designs, sizes and colors the creativeness of a sticker can vary greatly from one product to the next. But the most effective stickers create a message that can be solely unique to a brand or product.
With Store Supply Warehouse's easy to use sticker configurator, you can quickly create attractive messaging in a one-of-a-kind sticker in a matter of minutes. Simply choose your template, add your messaging, upload your logo, and you are ready to go. With short lead time (three days or less), you will be branding your store just in time for the holiday rush. For more information on Store Supply Warehouse or the custom sticker creator, view online at http://www.storesupply.com/custom_stickers.aspx.
About Store Supply Warehouse
Store Supply Warehouse was founded in 1994 and has since seen immense growth. Selling only retail fixtures and retail store supplies, which includes display cases, racks and shelving, shopping bags, hangers, pricing and tagging guns and mannequins, the distribution chain takes pride in its quick transaction process, and quality customer service. Products are available for purchase through Store Supply's 80-page catalog, which is updated and distributed three times a year, or online at http://www.storesupply.com. Guaranteed same day shipping is received on all orders placed before 3 p.m. The company's main office is located at 9801 Page Avenue, St. Louis, Missouri, 63132. Contact Store Supply directly at 800-823-8887 or by email at contactus(at)StoreSupply(dot)com.