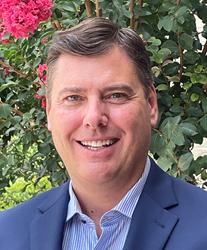 SOMERSET, N.J. (PRWEB) July 01, 2021
We are proud to announce the appointment of Mr. Dan Grewe as Executive Vice President of Sales for Custom Essence, Inc.
Mr. Grewe comes to Custom Essence, Inc. after an extremely successful career in senior management and sales at Ungerer, Symrise and Belmay. Dan most recently served as Co-President of Ungerer.
Mr. Grewe has focused his career on growth, whitespace opportunities and technical partnerships. In fact, one of these technical partnerships with Valvoline led to the development of a new brand called Arometrics and two US Patents of which Mr. Grewe is listed as co-inventor.
Mr. Grewe has been a member of multiple professional associations including the National Candle Association (NCA), Society of Cosmetic Chemists (SCC), Household & Consumer Products Association (HCPA), Beauty Industry West (BIW), Cosmetic Executive Women (CEW), International Sanitary Supply Association (ISSA) as well as other business-related associations through the years.
Commenting on the addition of Dan Grewe to the Senior Management of Custom Essence, Inc., Chief Sales Officer Jack Corley said "Dan brings incredible experience, talent, leadership and entrepreneurial foresight to the Senior Management Team at Custom Essence, Inc. He will play a pivotal role in helping Custom Essence, Inc. transform from a major player in the mid-tier fragrance category to the leader in this category."
Additionally, Prashun Patel, President of Custom Essence, Inc. commented that "We are extremely excited to have Dan join us. His extensive experience in piloting companies through this stage of growth is exactly what we need going into the next several years. His wisdom in client relationships, technology, and organizational structure will be invaluable."
Custom Essence, Inc. is a custom fragrance manufacturer based in Somerset, NJ. It is unique in that it is the only privately held, mid-sized Fragrance company that is owned and managed by Perfumers, who create high quality fragrances through an artful balance of creativity and extensive technical knowledge.