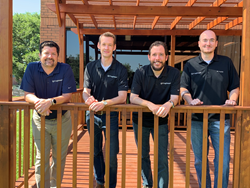 COLLEGE STATION, Texas (PRWEB) June 13, 2019
FrogSlayer, a custom software firm in College Station, TX announces the most recent additions to their growing firm. Tim Scott, Rob Dragotta, Michael Farnsworth, and Matt Walker Jones join the FrogSlayer team as senior members - each brings 15-25 years of experience to FrogSlayer as software engineers and consultants in various industries such as: health and safety, manufacturing, energy services, legal, and government.
FrogSlayer's CEO, Ross Morel, hopes that with the firm's continuing efforts to bring on talented and experienced leaders that FrogSlayer will take on larger engagements and more complex projects that help clients scale faster and outpace their competition in terms of innovation.
Director of Engineering, Thomas Supercinski, remarked, "Tim, Rob, Michael, and Matt are excellent additions to our growing team and we're ecstatic to have them. Finding talent of their caliber is not an easy task - I believe attracting them to our team is a testament to our culture and our excellent employee and client- centric earned reputation."
When CEO, Ross Morel, was asked about the importance of these key hires, he remarked, "Adding four, great new members to our team of this caliber is two-fold –first, our top priority is to get our clients results - with the various types of emerging technology available, navigating this complex world requires the best talent to drive innovation and results for clients. Two, it strengthens our commitment to provide high-paying technology careers in Bryan-College Station."
Morel continued to say, "We love this town and enjoy being able to do the type of work we do here. We hope to continue to serve clients around the nation from the Brazos Valley for many years to come without having to open offices across the country. We're highly selective when it comes to our team and clients."
In the last 3 years, FrogSlayer has grown 163% and has been named to Texas Monthly's Best Companies to Work For 3 times in the past 3 years, the Aggie 100 4 times in 5 years, and the Bryan Rotary Top 10 4 years in row.
About FrogSlayer
FrogSlayer provides forward looking companies, in underserved markets, with the custom software tools they need to accelerate growth, increase profits, and innovate faster than the competition (in weeks or months, not years). Learn more at http://www.FrogSlayer.com