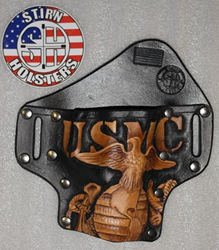 We were looking for a way for gun owners to proudly display their love of the liberties that America provides. Thanks to our veterans we still have that right," said owner Eric Stirnkorb
Cincinnati, OH (PRWEB) June 30, 2014
After recently celebrating their one-year anniversary, Stirn Holsters announces their partnership with local artist Brett Ederle. Known for his massive paintings on water towers and billboards, Brett's attention to detail fits perfectly with the hand-crafted, all-leather holsters created by Stirn Holsters. Both inside the waistband and outside the waistband designs for most handgun brands and styles are available.
With insignias like that of the Marine Corps, Navy and even POW/MIA, Stirn Holsters has taken on a whole new look and garnered attention of many veterans who are not only honored that they could serve their country, but also that they can now display their loyalty.
"We were looking for a way that gun owners, particularly those with conceal carry permits, can proudly display their love of the liberties that America provides. It has been with the help of all those who have served that we can continue to celebrate our freedoms," said owner Eric Stirnkorb.
It is not just patriotic insignias and designs as Stirn Holsters will recreate any logo or design, (with copyright permission) for those who want to declare their allegiance to their organization. With a wide variety of leather colors available, even a simple leather holster can be adorned with the American Flag, two-tone color or a custom dyed color combination.
For those who are just seeking the most comfortable holster available, Stirn Holsters offers a money back guarantee: If the owner wears the holster for 30 days and is not delighted with the comfort and feel of the holster, Stirn Holsters will refund their money.
Stirn Holsters are available on their website, with many photos of their styles and colors, and also in local Cincinnati gun shops like Ready Line in Newtown, Ohio. Any holster can be ordered by visiting their web site or contacting the owner via his email by going through the web site. They can also be found on Facebook.
For more information contact
Stirn Holsters
Eric Stirnkorb
eric(at)stirnholsters(dot)com