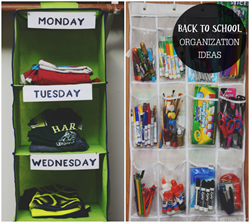 Back to school time is right around the corner. We want to help you prepare for it with some handy organization tips.
Vancouver, WA (PRWEB) September 04, 2015
Back to school time is rapidly approaching, or is already here for some families. Empire Closets in Vancouver WA, wants their customers to be ready to face the impending chaos with organizational options for their children and themselves. They recently released two blog posts that focused on these issues.
These blog posts can be found here and here.
The first post discusses how many parents have organization on the mind now that school is starting, and one area of contention is the backpack. A child will use this to carry all of their important belongings, from crumpled papers and pencils to favorite toys and snacks. Empire Closets wants parents to combat this disorganized mess waiting to happen with some simple tips.
The first thing that Empire Closets suggests is using a three ring binder to organize returned homework and artwork. This suggestion can help children keep everything organized, while still allowing for parents to check in on their progress. This can easily function as memorabilia, helping to show what a child learns over the years. Folders are also a great option; one can be used for each subject. This can help assignments and returned work stay where they belong. Empire Closets recommends emptying these folders regularly. A pencil box or zip up for all of their drawing and writing items can help the accumulation of these drawing utensils, which often end up in the bottom of the backpack.
Empire Closets suggest that parents help their children cleanout their backpacks on a regular basis. Reminding them to put their school items where they belong can help keep the school year running smoothly.
They go on to say that "A backpack is a great storage and organizational tool for your child, one that can surpass all of their needs. As parents are thinking about getting everything in order for the new-year, consider a built-in storage solution of your own. Empire Closets can help you find the organization solutions you need to be ready to take on the school year!"
The next blog discussed the importance of staying organized with great closets from Empire Closets. A custom closet with a great system can help get children on task this year. An organizational system that is built into a child's room can help them find everything easily so they do not have to dig. Empire Closets even believes that helping children plan their wardrobe is a great option. They can add custom-built hooks and well-designed areas for accessories.
Getting organized for school doesn't stop in the closet. Empire Closets suggests a custom pantry for making lunches and other meals for your children easier. A closet designer can join the collaboration process to help figure out how to maximize space with a custom solution designed to store and organize all pantry items.
Empire Closets wants to be there for their clients as they approach the new school year. Read more about their projects on their website.