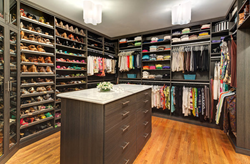 Help your home function more efficiently with some creative storage solutions!
Portland, OR (PRWEB) October 13, 2015
Empire Closets in Portland, Oregon, is a closet designer that says they can create the perfect custom closet for their customers. They say they pride themselves in their ability to take on just about any space. They recently released a series of blog posts to help their clients learn about a few creative ways to solve their storage issues.
The blog posts can be found here:
Big Closets Aren't Necessarily Functional
Personalized Modifications for Customized Closets
The first post introduces the idea that "a big closet isn't necessarily a functional closet." Empire Closets wants to shed light on the fact that the perfect organizational solutions can make just about any closet a functional one, big or small. While large closets can offer more square footage, without shelving, places for hanging, and other forms of storage, this large space can easily turn into a mess.
In this blog, Empire Closets states, "When a closet is built without much thought to organization, the size doesn't really matter. The largest closets can quickly morph into a rather scary jumble of clothing, shoes and accessories."
This blog also discusses ways in which a closet can be made into a "fun" space. They suggest the addition of great lighting, a dressing area, and other customizations to make the space creative and exciting.
The second blog post discusses various modifications that can be made to find storage spaces in some unexpected places. Empire Closets says they can help their clients find these spaces by customizing just about any place in the home.
A few examples of these creative storage solutions suggested by Empire Closets are: custom built cubbies in the front entry for shoes, coats, and other belongings; custom built entertainment centers to store electronics, books, and video games; and drawers that are a specific shape or size. These drawers are made to fit in awkward spaces that can function in a variety of ways.
A popular modification offered in this blog post is a compartment for a cutting board that can be pulled out and stored away depending on the needs of the homeowner. Sometimes, they even install special racks that can be added to closets, front entryways, laundry rooms, or other areas throughout the home.
Empire Closets also says they can make adequate storage space in existing areas where people take part in hobbies or specialized activities that require many supplies or tools. This can include things like modifying a craft room, home office, garage, or kitchen to better store the equipment people are using in these rooms. They recently stated that, "If you have special hobbies or interests, then you should have a customized space for the unique accessories associated with your interest."
About Empire Closets
Empire Closets is a closet designer serving Vancouver Washington and Portland Oregon that creates custom closets in all shapes and sizes, making sure the finished products are worth the investment. They say they keep several important things in mind when creating a custom closet design for their clients. They make sure it looks great, that it's functional, and that it is exactly what their customer had in mind. They can be contacted at 360-606-0251 (Washington) or 503-919-8974 (Oregon).