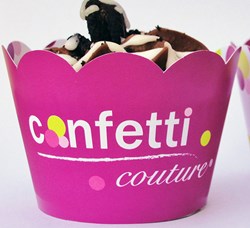 "...brand awareness has never been more important."
Fort Collins, CO (PRWEB) August 22, 2013
Confetti Couture, a baking and party supply manufacturer, has recently expanded their wholesale offering to include custom cupcake wrappers. Fueling the need for outstanding branding is the flood of new cupcake shops in nearly every town across the country, many operated by first time business owners. Recognizing that building brand awareness has never been more important for these bakery owners, Confetti Couture launched their custom cupcake wrappers to help these small bakery businesses make their mark in the bakery industry and be recognized.
Until now, custom product packaging for the gourmet confections has been out of reach for small bakery owners, the obstacles being both price and quality. Confetti Couture's trademark style is the whimsical hand-designed art on their products, unlike other graphically designed paper goods. Custom designed cupcake wrappers, that were launched this month, were a natural progression for the company. These wrappers, adjustable in size, are designed to fit a multitude of individually sized desserts, the most popular being the cupcake.
Confetti Couture's design services and low per piece pricing has made it possible for the small business owner to successfully brand their baked goods. With the option to print on both sides of these custom cupcake wrappers, they offer creative marketing opportunities for the business owner. What's the icing on the cupcake? Confetti Couture manufactures all of their wrappers in the USA.
The tactic of placing a company's logo on food containers is certainly not a new concept. Branded packaging is found everywhere in the business world from fast-food restaurants to the personal computer. The world famous coffee giant wouldn't imagine sending a single patron out the door of any of its stores without the familiar green logo prominently displayed on every item in the customer's hands. Confetti Couture's custom service allows the bakery business owner to deliver a unique product that reflects their own business personality and brand.
While they boast the unique ability to support the small business owners' branding efforts with their new custom designed wrappers, Confetti Couture also has high volume capabilities to deliver the custom cupcake wrappers to the busiest of bakers in the industry. As a supplier to one of the largest gourmet cupcake businesses in the industry, Confetti Couture continues to serve bigger businesses in their bakery branding needs. Businesses interested in learning how to use Confetti Couture custom cupcake wrappers as an element in building their brand should contact Janet McBride at 1-800-808-4995.
About Confetti Couture
Confetti Couture is an innovative manufacturer of cupcake wrappers and unique party supplies. Offering an array of hand designed products for weddings and events, as well as cupcake wrappers for business branding, Confetti Couture has become a bakery business ally. confetticouture.com/