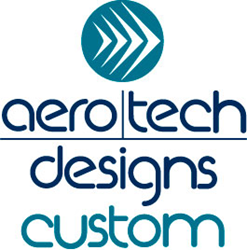 Custom cycling apparel now available at Aero Tech Designs
Pittsburgh, PA (PRWEB) April 02, 2014
Aero Tech Designs is an e-commerce company that manufactures and sells cycling jerseys, bike shorts and bike accessories via their website. This new division will be offering a full custom and semi-custom product line produced solely in the USA. Known for their extensive sizing range, Aero Tech Custom apparel will be available in sizes XS-3XL. All clothing and accessories will be manufactured in their factory in Coraopolis PA.
The Custom Club and Team segment will offer a full range of sublimation and silkscreen printing. Full Custom cycling kits have high end feature for racers and teams. Pricing for full custom will be based off the number of units ordered, and design. As a service to customers, Aero Tech also has a fully featured "team store" for ease in ordering and team communication. Customers can expect a four to eight week turnaround time depending on season and quantity. The Semi-Custom products are pre-designed templates that can be customized with unlimited colors through an online design tool that makes it easy to design a garment. This online design tool will allow customers to add text, upload logos, and customize the apparel to fit the personality of their ride or team. The third option is called Basic Custom. With this option, Aero Tech is offering to custom print any item from their current apparel lines. It is a quick and easy to get custom clothing without a lot of design time. The basic custom lineup includes t-shirts, compression shorts, tights, jackets, and sweat shirts.
Highly visible and precision engineered 3M reflective materials play a big role in this new venture. During the research and development phase of this launch, Aero Tech Designs worked closely with 3M to develop a certified printing process that creates highly visible garments with 360 degrees of visibility from all angles. This highly reflective process is available as an add-on to the printing processes. All garments will be available with upgradable print options such as 3M reflective materials and 3M custom screen printing.
Aero Tech Designs is located in downtown Coraopolis, a suburb of Pittsburgh, Pennsylvania. Manufacturing in the U.S.A. is an important part of their fitness apparel line and they have made a commitment to production in America. Innovation combined with the desire to exceed customer expectations are cornerstones in Aero Tech Designs' plan to prosper in the apparel industry. Aero Tech Designs' products enhance performance with emphasis on technical design for bicycling comfort. They hire local staff and purchase materials from American textile manufacturers. Aero Tech Designs has been making cycling apparel since the 1980's for many popular brands. The company proudly manufactured the Olympic uniforms for the American Cycling Team in 1984. Look for the "Made in U.S.A." on cycling apparel products available through their website.