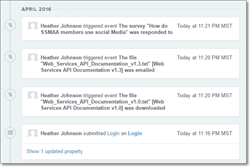 We are excited to offer HubSpot customers a way to sell more to their existing customers, identify advocates, and keep customers from leaving.
Mesa, AZ (PRWEB) April 13, 2016
Arizona-based customer portal platform provider, Socious, launched their newest integration with tech powerhouse, HubSpot, in early April. With the integration, HubSpot customers can combine demographic and transactional information from HubSpot and their CRM with behavioral data from their web-based Socious customer portal to create comprehensive contact profiles.
Adding activity data from your customer portal to the HubSpot timeline enables sales, marketing, and support teams to better understand customer challenges, interests and objectives.
HubSpot Enterprise customers can then use that enhanced data inside HubSpot to trigger workflows that deliver targeted messages to customers, as well as alert account managers to reach out to customers who are ready to buy additional products and services or that are struggling.
Socious's integration with HubSpot is intuitive and leverages familiar tools within HubSpot, including lists, workflows, email, and smart calls-to-action. Simply build list and workflow criteria in HubSpot that profile potential sales opportunities and struggling customers by combining marketing, sales, and customer portal data.
Companies that need help engaging customers, managing customer communication, and getting people to use their customer portal will be able to work with Socious's experienced team of community managers.
"We are excited to offer HubSpot customers a way to sell more to their existing customers, identify advocates, and keep customers from leaving," said Joshua Paul, Vice President of Marketing and Strategy at Socious.
"Our point-and-click integration allows sales, support, and account management teams to get inside the minds of their clients by being notified when a prospect may be ready to learn more about additional products or is unengaged or frustrated."
Socious has been a customer of the Cambridge, Massachusetts-based marketing and sales software company for over five years with tremendous success, and is proud to announce their entry into the HubSpot integration ecosystem.
The HubSpot integration is now available to all Socious customers. HubSpot customers can learn more at socious.com/hubspot.
About Socious
Founded in 2002, Socious (socious.com) offers the industry's most complete online customer community and portal platform to businesses, user groups, and associations. The Socious platform manages over 1.5 million customers for many of the world's top companies and membership organizations. Socious's customer portal software includes private social networking, customer communication tools, discussion forums, membership management, and collaboration tools to help organizations increase sales, retention, and customer engagement. Socious provides a full range of professional services to help organizations plan, launch, and manage their online customer community. Take an online tour of Socious customer portal software.
###