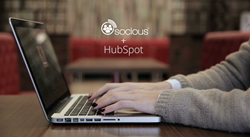 "Too often, business spam their customers because they have an established relationship. Socious's integration with HubSpot helps companies put the right message in front of the right people at the right time."
Mesa, Arizona (PRWEB) November 03, 2016
Socious is proud to announce they will be exhibiting at the INBOUND Conference in Boston, one of the largest gatherings of sales and marketing professionals in the world. At the conference, Socious will showcase the world's first HubSpot integration to a customer portal and online community platform.
Socious first unveiled the integration with their award-winning customer portal software earlier this year, giving companies a comprehensive toolset to increase business with current customers.
"Socious's HubSpot integration really is a one-of-a-kind solution. Over the past few years, we've seen many sales enablement platforms pop up, but there hasn't been anything that helps companies sell to their existing customers systematically," said Socious CEO Paul Schneider.
Up until now, most companies spent the bulk of their efforts attracting new customers and then closing them, but didn't receive the same support when selling additional products and services to those customers afterward.
This is where Socious's integration with HubSpot comes in. The integration allows companies to increase sales to existing customers, improve customer retention, and expand advocacy in their customer base.
"HubSpot and other marketing and CRM software have systematized generating leads and closing new deals for many businesses," said Joshua Paul, vice president of marketing and strategy for Socious. "Socious carries that data-driven approach through the full customer lifecycle to generate additional revenue from each customer and extend the life of the relationship."
Socious's integration with HubSpot helps companies market and sell more effectively to their current customers, proactively engage struggling customers before they leave, and identify top customer advocates by utilizing more comprehensive data.
Companies can leverage the integration to create a more complete customer profile by combining insight from HubSpot's marketing automation and CRM software with behavioral data from Socious's customer portal. The resulting customer profile includes demographic, transactional, and activity data to give a full view of customers' past purchases, interests, and likely future buying decisions.
Businesses can use that information to deliver hyper-targeted, relevant information to customers and prospects.
"Too often, businesses spam their customers because they have an established relationship. Socious's integration with HubSpot helps companies put the right message in front of the right people at the right time," Paul continued.
The combined Socious+HubSpot solution provides companies with a system to pull add-on and upgrade deals through the sales funnel faster to close more deals, nurture brand advocates, and improve customer retention.
Socious will demonstrate their integration with HubSpot's marketing automation and sales platform at Club Inbound during exhibiting hours.
Socious invites attendees of the INBOUND Conference in Boston from November 8-11, 2016 to stop by Socious's booth to find out how the integration can help their organizations and see it in action. HubSpot customers can also learn more at socious.com/hubspot.
About Socious
Founded in 2002, Socious (socious.com) offers the industry's most complete online customer community and portal platform to businesses, user groups, and associations. The Socious platform manages over 1.8 million customers for many of the world's top companies and membership organizations. 
Socious's customer portal software includes private social networking, customer communication tools, discussion forums, membership management, and collaboration tools to help organizations increase sales, retention, and customer engagement. Socious provides a full range of professional services to help organizations plan, launch, and manage their online customer community. 
Take an online tour of Socious customer portal software.
###