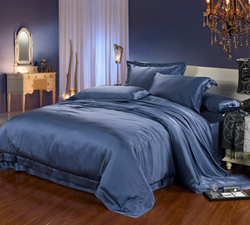 Customers' satisfaction is our everlasting goal to achieve.
Midland, TX (PRWEB) April 22, 2014
Lilysilk has been a leading brand of silk bedding wares for years, offering top-quality silk sheets, duvets and blankets for customers with speedy delivery. Recently, the company has announced a new offer for customers, allowing customers to ask for free silk swatches before they place orders at the reliable website.
Spring marks a season of fun and relaxation for people in the world. While sleeping with silk sheets and wearing silk pajamas are the big enjoy in spring. As a result, more and more people would like to spend a little more money to purchase the luxurious silk sheets for their beds. Lilysilk has earned a reputation of quality silk items and service, as well as a commitment to the exquisite craftsmanship and affordable prices.
In addition to the service of silk swatches, the company has also launched promotions on its mulberry silk sheets, pillowcases and pajamas. "Customers' satisfaction is our everlasting goal to achieve. We are offering big discounts and excellent services for our customers now, and we hope to expand the online market. Our silk sheets feature delicate design, refined stitching, exquisite craftsmanship, and gorgeous looks," says Mike Lee, CEO of Lilysilk.
Customers feel assured to purchase silk items at Lilysilk bedding store because the company has also offered considerate return policy which allows items to be shipped back within 45 days without hassle.
About Lilysilk With years of experience in the silk bedding industry, Lilysilk aims to offer stylish and high-quality bedding wares to each customer at competitive prices. Its range of products covers silk fitted sheets, flat sheets, duvet covers, pillowcases, mattress toppers, and so on. The company offers worldwide delivery and complimentary help and advice from a team of qualified experts.
For more information about Lilysilk and its products and services, please visit: http://www.lilysilk.com