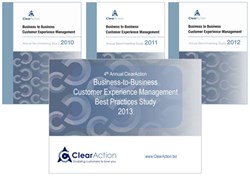 Strategy for customer experience management is lacking for most organizations.
Sunnyvale, CA (PRWEB) November 19, 2013
Differentiation of customer experience (CX) is a wide-open opportunity for organizations that adopt a holistic CX management (CEM) strategy, according to the 4th Annual ClearAction Business-to-Business Customer Experience Management Best Practices Study. Among 23 well-known CEM practices (such as service excellence, CRM and touch-points), CX strategy is the weakest, and lack of strategy and executive sponsorship are cited as obstacles to customer experience success.
Revenue, share of budget, and differentiation are primary B2B CEM motivators. Many executives discount the value of voice-of-the-customer (such as surveys and customer advisory boards) and see CEM as a subset of strategy. This is counter-intuitive to the concept that businesses exist thanks to revenue from customers. To help companies overcome lack of CEM strategy (which is also one of the biggest stumbling blocks among business-to-consumer (B2C) firms), a model is presented in the study. Six building blocks are recommended in the model, in order to achieve loyalty and retention business results:
(1) Customer voice
(2) Customer intelligence and lifetime value
(3) Customer experience improvement and innovation
(4) Customer-centricity roadmap
(5) Internal branding
(6) Branding
The study features numerous insights:

6 CEM success factors identified as universal to both B2B and B2C organizations, as prerequisites to sustainable, strong business results.
Tools and technologies for facilitating and embedding CEM.
Clusters of CEM efforts, to show context and linkages among those activities.
CX efforts with profit-growing potential because they can minimize mis-alignment of the company with what's important to customers.
CX efforts with revenue-growing potential that are often practiced with minimal profit-growing CX efforts underway.
Extensive recommendations are provided throughout the report.
"This study provides a great cross-industry view of various B2B success stories. I keep it on my desk for reference and use some of the data stats to support my internal presentations. Well designed and easy to consume," commented Milista Anderson, Chief Customer Officer at SunGard Energy Systems.
The 4th Annual ClearAction Business-to-Business Customer Experience Management Best Practices Study report is available at ClearAction(dot)biz/benchmarking. The study was conducted by ClearAction and co-promoted by CustomerThink.
About ClearAction
ClearAction is a customer experience optimization consulting firm that guides company-wide action on a clear view of customer intelligence. CX optimization aligns organizations with customer expectations, to minimize hassles, for natural customer enthusiasm, sustainable differentiation and growth of profit as well as revenue. http://ClearAction.biz.
About CustomerThink
CustomerThink is a global online community of business leaders striving to create profitable customer-centric enterprises. Each month, the site reaches 200,000 subscribers and visitors from 200 countries via email, RSS, LinkedIn and Twitter. CustomerThink currently serves over 80,000 visitors per month. http://CustomerThink.com.