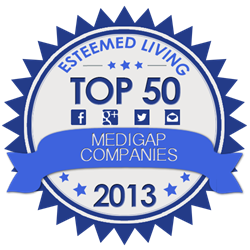 Esteemed Living Magazine knows what matters most to its audience. The "Top Choice" lists are a reflection of customers top selections for wide range of topics.
(PRWEB) October 31, 2013
Esteemed Living Magazine is the newest health and lifestyle magazine for the 50 plus age market. Esteemed Living provides informative articles that focus on things that are pivotal to the senior community.
Esteemed Living focuses on promoting active and healthy lifestyles in the baby boomer generation but spans across all age groups and the Top Choice Lists reflect those various audiences. One key issue for nearly every senior over the age of 64 is Medigap Insurance. This weeks Top Choice List, generated by consumers, reflects the peoples choice for the best medicare supplement companies on the market with 1-800-MEDIGAP currently holding the top position.
The Top Choice Lists are topics, services, and products chosen by the Esteemed Living community. Esteemed Living is passionate about not only providing vital information, but inspiring readers to think about life in refreshing, more exciting ways and the Top Choice Lists. Customers can create their own list and the ranking is determined by the number of votes through email and on various social sites such as twitter, facebook, and google+. Once a list is generated and each entry receives a certain amount of votes, the list can be shared across the web.
Robin Ball, Managing Editor Esteemed Living at says, "This new edition to our website is another significant tool to help keep our audience engaged with the magazine as well as a way for us as a company to remain aware of what is new and trending in the social realm "
As the nations newest health and lifestyle magazine for the 50+ market, the baby boomer generation and beyond will find that Esteemed Living is informative, inspiring, entertaining and best of all a trusted source for promoting an active and healthy lifestyle for those in and entering retirement. We may be a new publication but we know our customers and are dedicated to being a major source for today's Senior and tomorrow's as well.