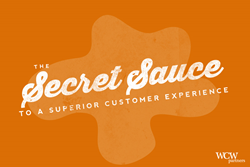 Become people focused, not system focused.
Stillwater, MN (PRWEB) August 21, 2014
WCW Partners, a business and management consulting firm, released a new blog post on their website – "The Secret Sauce to a Superior Customer Experience." The post, written by WCW Partners CEO Rick Conlow, details a recent unsatisfying airline experience Conlow had and lists some of the most common service breakdowns customers tend to experience, which include:

Discourteous employees
Indecisive customer service reps
Lack of complaint resolution
False promises
Monthly reports from the American Customer Satisfaction Indexes (ACSI) report that the average customer satisfaction rating is 76.8 – essentially, a "C" rating. Surprisingly enough, companies can survive, and even prosper, with that level of service. Of course, the higher the customer satisfaction level, the more profitable and successful an organization will be.
Conlow points out that too often, companies cannot see the forest for the trees, and end up spending millions on measuring customer satisfaction and collecting data without making real improvements to their customer service.
"Why not survey and measure less, and spend significantly more time listening to, training, coaching, recognizing, communicating with, planning with, supporting, innovating with and helping your employee teams?" says Conlow. "Become people focused, not system focused."
Empowering employees and making them customer advocates and the heroes of the business, says Conlow, is the key to success and an excellent customer reputation. Companies should create customer driven teams that make their team members experts on customer satisfaction.
For more business perspectives from Conlow, and information on leadership and performance consulting and training, visit WCW Partners at http://wcwpartners.com/ or visit their LinkedIn page at https://www.linkedin.com/company/wcw-partners.
About the Author, Rick Conlow
Rick Conlow is the CEO/Co-Founder of WCW Partners, a global management consulting and training firm. Rick has helped organizations increase sales 218%, improve repeat-and-referral business by 20%, increase customer retention to 99%, reduce complaints by 60% and achieve 34 quality awards.
About WCW Partners
Co-Founders Rick Conlow/CEO and Doug Watsabaugh/COO of WCW Partners have more than 50 years of combined business, training and leadership experience. Their company partners with organizations to increase sales and customer retention, while simultaneously improving employee loyalty, engagement, and productivity. Clients include 3M, Meijer, Rite Aid, Canadian Linen, AmeriPride, Honeywell, Entergy, Nash Finch, Northern Power, Pepsi and others.
For more information, contact 888-313-0514 or visit http://www.wcwpartners.com.