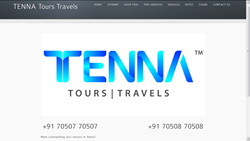 We provide rental cars at economical prices.
India (PRWEB) July 26, 2015
TENNA is synonymous with providing outstanding taxi services in Patna. They run a fleet of AC vehicles to ensure convenient travel for users within their budget. Over the years, they have been successful in forming a robust reputation for themselves by offering commendable taxi services. They use innovative ways to provide world-class services to their clients. For those who are inclined to visit Gaya, TENNA offers customised tour packages for Gaya.
Responding to a query regarding their tour packages, one of the executives of TENNA said, "We provide rental cars at economical prices. Our air-conditioned cars will give you a convenient and comfortable ride in Gaya. Our primary focus is your safety, and thus we take stringent measures to ensure that your safety is not compromised. All our drivers have had a thorough background check and are well abreast with the roads that head towards Gaya. Further, we can customise our tour packages according to your specific needs and requirements and give you the deal which is most beneficial for you."
Bodh Gaya is one of the most popular North Indian attractions, and is visited by people from world over. It is the same place where Gautam Buddha attained enlightenment. Known for its beautiful temples, the Buddhist monasteries and monuments, Body Gaya reflects the historical and religious relevance of this beautiful city. Located in Bihar, it is a popular destination for the Buddhists, locals, and the tourists alike. With TENNA, visitors can find excellent car rental services at affordable rates to travel to Gaya, which is just 12 KM away from Bodh Gaya.
The executive further added, "We provide car rental services for various purposes including tourism, travel between destinations in and around Patna, airport pick-up & drop-off, station pick-up & drop-off, short & long-term car hire, hotel bookings, corporate car rental services, marriages & other events, honeymoon and many more. Our valuable customers are the most important for us and we strive hard to give them the best car rental services."
TENNA offers 24x7, safe and comfortable taxi services and ensures convenient travel for the users within their budget. People who want to hire cabs in Gaya, can browse through their website for further information.
About TENNA:
Comprising of a team of professionals, TENNA has been providing excellent taxi booking services in Patna. They provide comfortable and safe taxi services for corporate travel, airport transfer, or for the personal use. They offer different tour packages for their clientele, to make their journey convenient and comfortable. For those who want to book cabs in Patna can get in touch with TENNA.
Contact Information:
For further information, please contact:
Email: info(at)tenna(dot)in
# # #