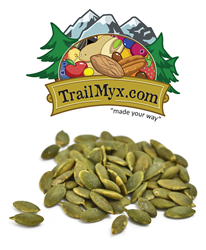 Austin, Texas (PRWEB) September 30, 2014
TrailMyx.com—the country's leading purveyor of customizable trail mix blends—announces its October Flavor of the Month: raw pumpkin seeds.
Pumpkin seeds—also known as pepitas (Spanish for "little seed of squash")—are rich in protein, and valued by experts as an excellent source of zinc, iron, fiber and multiple types of vitamin E. They are prized for their contributions to bone health, red blood cell function and proper bowel function.
Of course, pumpkin seeds are closely associated with the month of October, a time when the nights turn chilly and front porches around the nation are awash in the soft yellow light emanating from carved jack-o'-lanterns. On Halloween, a trail mix blend featuring pumpkin seeds is a great alternative to sugar-heavy candy bars and chocolates.
Using the Trailmyx.com Online Builder, customers can combine raw pumpkin seeds with almonds, sunflower seeds, dried cherries and cranberries or any one of more than 70 other ingredients to create a blend perfect for mid-Autumn.
About TrailMyx
TrailMyx—a family-run business based in Central Texas—is best known for its innovative Online Mix Builder, which allows customers to generate their own TrailMyx blends, using the ingredients they want in the portions they desire. A preview window provides the user with a facsimile of what their order will look like, while the real-time pricing feature tells the customer exactly what they can expect their order to cost based on the ingredients—and quantity of each—they've added.
With more than 70 types of nuts, fruits, seeds, sweets and crunch bases to choose from, TrailMyx boasts more than a billion possible flavor combinations, living up to the company's slogan: "Your personal trail mix. Your way."
Available ingredients range from traditional favorites such as almonds and dried bananas to modern flavors like vanilla cocoa granola and dark chocolate espresso beans.
TrailMyx.com customers can choose from 1- and 2-pound bags, as well as a 2-pound gift tin for holidays, special occasions and "just because." Free shipping comes standard on all orders.
Follow TrailMyx.com on Facebook!