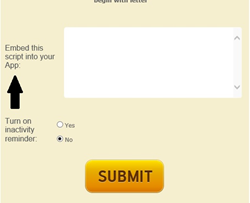 we have decided to create codes for them to copy and paste into their app to enhance their apps
(PRWEB) July 02, 2015
AppsGeyser is a template based Android app platform for app makers with little to no technical experience. AppsGeyser has been assisting people worldwide in getting mobile for the past four years and has now taken their template based platform to the next level by introducing customized apps.
In the competitive Android app world it is no longer enough to just make an Android app and hope for app success. Android apps are getting more competitive and to enable AppsGeyser app makers to compete in the Android market, Appsgeyser has introduced customized options to the templates. App customization enables the app maker to create an app that will support their branding style, and allow the app to stand out from the masses.
To customize apps, advanced codes need to be added to the template and to help app makers achieve the changes they want to the template. In order to assist in this process, AppsGeyser has published codes to their blog and on their YouTube channel. All the app maker needs to do to incorporate these codes, is to copy and paste them into their app. For more information on customized codes, please visit their blog.
"I recently added the Pinterest button to my apps," Reuven Cohen told us, "This has helped the marketing aspect of my business dramatically because my app users are pinning my products, and thus are increasing my brand's visibility online."
"The app market is competitive and if you cannot make your app stand out then you will not succeed," explains Vasily Salomatov "We understand that many of our app makers have little to no technical experience. This is why we have decided to create codes for them to copy and paste into their app to enhance their apps."
About AppsGeyser
AppsGeyser, launched in February 2011, is now the biggest Free Android App Builder on the market. AppsGeyser's popularity has risen by enabling users to create apps with ease for Android devices from any web content in under five minutes. AppsGeyser has seen more than 1,859,000 apps created on its platform. There have been more than 1.1 billion downloads of its apps.