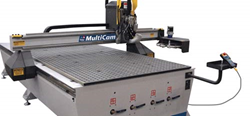 The display of retail goods has a proven impact on sales, especially in-store kiosks or kiosks in a mall or other retail setting
Miami, Florida (PRWEB) October 19, 2016
Cepero Remodeling, a unique company using CNC Machine Services for custom designs for businesses in Miami, Ft. Lauderdale, and West Palm Beach, is proud to announce a new information page specific to kiosk design. Kiosks are often used inside of stores and other retail outlets as well as shopping malls to display goods for sale; custom kiosk design using CNC technology makes it possible to have unique kiosks for any business need.
"The display of retail goods has a proven impact on sales, especially in-store kiosks or kiosks in a mall or other retail setting," said Maria Cepero, general manager at Cepero Remodeling. "Our new information page allows a busy business owner or manager to learn about our custom kiosk design services, as well as our use of CNC (Custom Numerical Control) technology to make these kiosks truly unique for our customers in Miami, Ft. Lauderdale, and West Palm Beach."
To view the newly launched information page on custom kiosk design, visit http://ceperoremodelinganddesign.com/custom-kiosk-designs/. http://ceperoremodeling.com/. Interested parties can learn more about CNC (Custom Numerical Control) services at http://ceperoremodelinganddesign.com/custom-numerical-control-brilliance-cnc-design-technology/ as well.
Presentation and Kiosks: Improving the Buying Experience
How goods are presented in a retail setting is an important aesthetic, where art meets science. While customers may say that they focus only on attributes of the product itself, at a subliminal level they are focusing on how the products are displayed. Grocers, for example, have learned that a more vertical orientation for things such as cucumbers, broccoli, and brussel sprouts is not only pleasing to the eye but increases sales. Similarly, high-end retailers such as those selling designer glasses have realized that custom kiosks in the center of stores that attractively display the eyeglasses and allow for users to see themselves in strategic mirrors can enhance the shopping experience. CNC services allow Cepero Remodeling to work with a retailer to blend the physical setup of a store or mall setting with the items to be sold. These unique design services are explained in brief on the new website page; those interested in a no obligation consultation, should reach out to the company directly. While the company works primarily with businesses in Miami, Ft. Lauderdale, and West Palm Beach, any business in South Florida is urged to reach out for a consultation.
About Cepero Remodeling
Based in Miami but serving the greater South Florida area such as Ft. Lauderdale and West Palm Beach, Cepero Remodeling is known as the place to go for custom design services. Using CNC machine technology, the company designs and builds custom commercial displays, custom POP displays, and store fixtures. In addition, the company does custom closet and custom kitchen cabinet designs as well as custom office furniture.
Cepero Remodeling
Web. http://ceperoremodeling.com/.