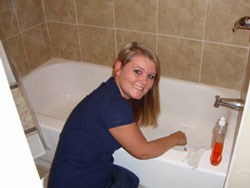 We're so excited to help those in need have a little peace in their lives with a clean home
Virginia Beach, VA (PRWEB) September 12, 2013
Virginia's Tidewater area women in cancer treatment to be given free cleanings and peace of mind through partnership of premier cleaning service Custom Maid of Virginia Beach and international nonprofit foundation Cleaning For A Reason.
Alison Palmer Owner of Custom Maid states, "The last thing that a woman undergoing cancer treatments can do for herself is cleaning her home, but the thing she most wants is a clean house."
Custom Maid which has been in business since 1985 is the largest independent cleaning service in Tidewater serving the Virginia Beach, Norfolk, and Chesapeake areas. The company just announced that it has renewed its relationship with Cleaning For A Reason. Together they will assist women in the area who are struggling through cancer treatments.
Susan Helms office manager of Custom Maid adds, "we're so excited to help those in need have a little peace in their lives with a clean home." The cleaning company will start by cleaning two homes per month for four consecutive months, free of charge for the local women dealing with cancer.
Cleaning For A Reason strives to aid women who are battling cancer by teaming up with cleaning services across the United States and Canada. Together, these two forces offer free maid services to meet the needs of women, and since 2006 has donated up to $3,600,000 worth of free services. Based in Lewisville, TX, Cleaning For A Reason has been able to work with more than 1,000 residential cleaning services and continues to grow and gain support.
To learn more about Custom Maid's visit http://www.HouseCleaningByCustomMaid.com
To learn more about Cleaning For A Reason visit http://www.cleaningforareason.org
###
About Custom Maid
Custom Maid is a group of women who have been cleaning houses in the Virginia Beach, Norfolk and Chesapeake VA communities since 1985. In those 28 years they have done over a QUARTER MILLION house cleanings