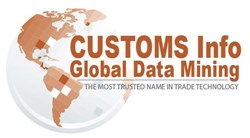 Eden, UT (PRWEB) September 09, 2013
CUSTOMS Info Global Data Mining presenting a free webinar on Export Control Reform.
When: Friday, September 13, 2013 11:00 AM - 11:30 AM PDT
Where: Online webinar, register at: https://www1.gotomeeting.com/register/385928305
Who: Melissa Harrington, Director of Sales, West U.S. and Canada, CUSTOMS Info Global Data Mining
What: This webinar will discuss why Export Controls are being reformed, what the key changes will be, and the timeline for these changes. It includes an explanation about the different phases of the ECR initiative and how it applies to companies shipping across borders. Attendees will be able to take away important recommendations for exporters that will save money and hassle.
Supporting Resources:

About CiGDM
CUSTOMS Info Global Data Mining helps businesses optimize global trade management (GTM) systems and streamline global trade compliance automation. We provide the world's most comprehensive trade data repository delivered via web-based subscription, API web services or as data to populate any GTM or Landed Cost application. We are the largest provider of duty and tax content for international e-commerce with hundreds of e-commerce sites utilizing our data to provide accurate landed cost information. Our data and services provide faster deliveries and fewer border delays. We help multi-national companies increase the informational value of trade data and the productivity of global trade staff to reduce operating costs, improve customs compliance, accelerate supply chain speed and maximize the return on investment of this corporate function. Areas of expertise include customs classification research, customs auditing and trade data analytics/business intelligence.
Working in conjunction with GTM applications, our strategic partners include SAP, Oracle, MIC and other trade software partners. Please visit http://www.customsinfo.com for more information.