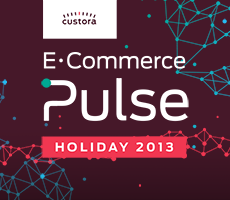 The overall shift from offline to online commerce is still in its early days, but it's real
New York, NY (PRWEB) December 03, 2013
According to data from the Custora Pulse (http://www.custora.com/pulse), Cyber Monday was the biggest day in e-commerce history, with online sales increasing 18% vs. Cyber Monday 2012.
"The overall shift from offline to online commerce is still in its early days, but it's real," said Corey Pierson, CEO, Custora. "Though US retail on the whole is not growing this holiday season, online commerce is growing at an impressive rate, with Cyber Monday growth peaking at a healthy 18% sales growth vs 2012".
The Pulse is based on Custora's analysis of over 70 million online shoppers and over $10 billion in e-commerce revenue across over 100 US-based online retailers.
Other notable e-commerce Cyber Monday trends:

One in three purchases was done on mobile devices (phones and tablets) on Cyber Monday.
Apple still dominates e-commerce with 80% of mobile orders, but Android devices are gaining share, with 20% of mobile orders this Cyber Monday, up from 13% on Cyber Monday 2012.
Social Commerce didn't happen on Cyber Monday: Social Networks (including Facebook, Twitter, Pinterest and Instagram) generated less than 1% in e-commerce sales on Cyber Monday.
Custora CEO Corey Pierson discussed Cyber Monday and holiday trends on Bloomberg TV's "Bottom Line" as Cyber Monday came to a close. Watch the interview here:
http://www.bloomberg.com/video/we-re-seeing-a-shift-in-shopping-behavior-pierson-jw4LZd5_S4mxXYGHCIZ5~Q.html
The Custora Pulse is updated daily throughout the holiday season; visitors can sign-up to receive email updates. The Pulse also enables online retailers to easily benchmark themselves against US e-commerce industry performance along key performance metrics. View the Pulse and sign up here: http://www.custora.com/pulse
About Custora
Custora (http://www.custora.com) provides a customer-centric marketing platform that helps e-commerce teams make customer acquisition and retention programs more profitable. Custora's software uses advanced statistical models to identify distinct customer segments and predict how customers will behave in the future. This enables e-commerce companies to deliver more relevant and effective communications that promote long-term customer relationships.
Custora is proud to work with some of the world's leading e-commerce retailers, including LivingSocial, Etsy, Fab, Bonobos, Revolve Clothing, and One Kings Lane.
Custora E-Commerce Pulse Methodology
To provide estimations of the US e-commerce industry, Custora analyzed over 70 million online shoppers and over $10B in e-commerce revenue across over 100 US-based online retailers. External data points, such as the US Department of Commerce e-commerce growth figures, were also leveraged to extrapolate growth trends within the Custora data universe to arrive at predictions for US industry at large. The figures in this release are based on Cyber Monday 2013 (December 2, 2013) and Cyber Monday 2012 (November 26, 2012).
For more information, visit http://www.custora.com and http://www.custora.com/pulse.