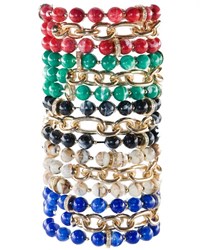 Los Angeles, CA (PRWEB) February 03, 2014
Blossoming accessories company Mint and Lolly is featured in Dose of Dash this month, with an in-depth interview ruminating over just how and why the sister-owned brand came into existence.
Mint and Lolly is a fun yet classy accessories line. The cute costume jewelry finds the right balance of sweet and savvy, balancing youthful charm with adult style. The Novack sisters, founders of this calorie-free candy factory, grew up in Florida with a love for jewelry and playing the game Candyland®. Their collective passions in childhood followed them. Now adults, Lesley, Meghan and Katie have very unique tastes, which the sisters describe as "conservative, bohemian and wild streetwear."
As it happens, the sisters created the brand after many years of chatting about owning a jewelry business that combined all three of their styles. It seemed like a dream until it wasn't. Now, Mint and Lolly is a reality, with a full line of colorful, creative jewelry pieces.
When you land on the Mint and Lolly store, you'll notice the sisters' unique tastes represented in full force, all sugarcoated and priced just right.
Browsing items like the Pecan Praline Necklace, Fruit Gummy Bracelets, Chocolate Truffle Ring, and Handmade Frosting Earrings make even the most savory patrons feel like ordering some candy.
This is a world where cute costume jewelry pieces are referred to as treats, and the majority of sugary accessories fall into the $10 - $40 range. As the sisters noted in their interview: "Seeing someone wearing a Mint and Lolly treat and feeling so proud and pretty; watching someone with Mint and Lolly get a compliment…They are the biggest rewards because you know you helped make someone feel pretty, and you didn't rip them off to do so."
However, the Novack sisters admit that the jewelry business isn't just sugar and spice and everything nice. They urge that owning a business isn't for everyone, and that even selling products you love and believe in, like jewelry, takes a lot of work. This is compounded with the rewarding and at times unique situation of working alongside family members. "We still fight like every other family," they stated, "Having a business together doesn't make you immune to that."
Mint and Lolly jewelry is available now at http://www.mintandlolly.com.
Contact Mint and Lolly
The Novack Sisters - Lesley, Meghan and Katie
Email: contact (at) mintandlolly (dot) com
Phone: 310-876-1208
Toll Free: 855-385-7304