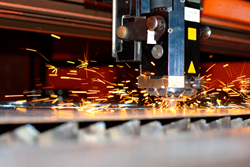 "We prefer the laser cutter's versatility and precision, which allow us to complete intricate, complex, and customized products for our customers in short order, without the hassle of saw blades and their associated maintenance issues."
Seattle, WA (PRWEB) May 23, 2014
When two technologically advanced mechanical tools are pitted against each other, it becomes an intriguing sort of boxing match. In a recent article, Cutting Edge Laser pits laser cutters against bandsaws to determine which is the best tool for metal cutting projects.
For more information on Cutting Edge Laser's sheet metal fabrication and laser cutting services, visit - http://www.celmfg.com/cel-services
"In it's most basic form," the article reads, "A bandsaw is a continuous band of metal lined with teeth along one edge that rides around two large rotating wheels." Laser cutters use high-powered laser beams to splice cleanly through sheets or tubes of metal.
After describing what a bandsaw is and how it functions, the article proceeds to explain the advantages of laser cutters over bandsaw technology.
Because a bandsaw uses a blade to cut the metal, as opposed to a stream of light, it's precision and versatility are limited by the width of the blade and it's kerf as well as the complicated procedure required to cut shapes out of the interior of a piece of metal.
Hence, the article emphasizes the fact that, "Laser cutters are far better at completing intricate, customized products and tasks than bandsaws."
In conclusion, the article makes the point that, "While bandsaws can do a great job, we prefer the laser cutter's versatility and precision, which allow us to complete intricate, complex, and customized products for our customers in short order, without the hassle of saw blades and their associated maintenance issues."
About Cutting Edge Laser:
CEL Manufacturing was founded in 1995 as Cutting Edge Laser, Inc. with the objective of servicing Puget Sound's laser cutting and sheet metal fabrication requirements. From early on there was a commitment to equip the shop floor with the latest technology in metal processing equipment. Today, their services have expanded from laser cutting to sheet metal fabrication, machining, forming, welding, rapid prototyping, and design and engineer.
Cutting Edge Laser Inc
18620 141st Ave NE # A, Woodinville, WA ‎
http://www.celmfg.com
800.235.2595 ‎