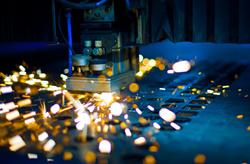 "The well finished edges, versatility, and precision that laser cutters provide causes them to take first place on the podium of cutting machinery options."
Seattle, WA (PRWEB) April 16, 2014
Technology has risen to incredible heights. Both light and water can be used to cut thick sheets of metal. In a recent article entitled, "Face Off: Laser Cutting Vs. Waterjet Cutting," Cutting Edge Laser (CEL) describes the competitive differences between these two effective cutting technologies.
After a brief history of the development of both methods, the article launches into a discussion of waterjet cutting. It discusses how, because waterjet cutters use extremely powerful jets of water to cut metal, there is no heat generated in the process. This results in the absence of a "heat affected zone," and the material is not marred by the presence of heat in the cutting procedure.
A disadvantage of using waterjet cutters is the risk of delamination due to the effect of the waterjet on the material. The article explains that, "Delamination is the failure of a composite to remain a composite, and it begins to separate into layers of its composited elements."
The article proceeds to describe the pros and cons of laser cutting, emphasizing how a laser cut edge is perfectly finished. Furthermore, according to the article, "Laser cutters are typically more precise than waterjet cutters, especially when cutting thin materials or small items."
The article describes a distinct disadvantage of using laser cutters, namely, their inability to cut reflective materials. Because a laser cutter is essentially a high-powered beam of light, that light will simply reflect off of the material as opposed to cutting through it.
In conclusion, the article says, "At the end of the day, Cutting Edge Laser is a proud proponent of laser cutters, specifically from the highly effective Trumpf laser cutter lineup."
CEL gives a reason for their use of laser cutters by saying that, "The well finished edges, versatility, and precision that laser cutters provide causes them to take first place on the podium of cutting machinery options."
About Cutting Edge Laser:
CEL Manufacturing was founded in 1995 as Cutting Edge Laser, Inc. with the objective of servicing Puget Sound's laser cutting and sheet metal fabrication requirements. From early on there was a commitment to equip the shop floor with the latest technology in metal processing equipment. Today, their services have expanded from laser cutting to sheet metal fabrication, machining, forming, welding, rapid prototyping, and design and engineer.
Cutting Edge Laser Inc
18620 141st Ave NE # A, Woodinville, WA ‎
http://www.celmfg.com
(800) 235-2595 ‎