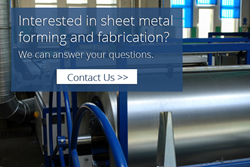 Our goal is to produce the highest quality metal projects for the lower costs to our clients.
Seattle, WA (PRWEB) July 31, 2014
"What is metal forming? How is this type of metal fabrication service different than cutting and joining methods, such as welding? How will metalforming change (or better) the outcome of my metal project?"
These are the types of questions that Cutting Edge Laser seeks to answer for their clients in their recently released article, "Metal Forming vs Welding: How Understanding Metal Affects Your Metal Projects".
Cutting Edge Laser hasn't left traditional cutting and joining methods behind them, as they still frequently practice and refer clients to processes that will include familiar procedures such as welding. However, they do know that many projects are bettered and rendered cheaper and more time efficient by metal forming.
"Metal forming processes, in highly simplified terms, use stress and pressure to form desired shapes into metal," the article explains, "We use rolling, stretching, indentation, extrusion, die-forming, and many other methods of metal forming in our work."
For more information on Cutting Edge Laser's technology and production processes, visit their services page.
The article gives an easy to understand explanation of why they feel metal forming can be such an excellent choice for those seeking manufacturers for their metal projects. Benefits such as uniformity, cohesive, smooth appearance, simplicity of manufacture, and other such considerations are listed.
"Of course we know that metal forming won't always be the solution for every project," Cutting Edge Laser says, "But that is why our designers and engineers are ready and eager to help those with metal project needs consider how to better optimize their design, or to consider another option.
"Our goal is to produce something for our clients that is the highest quality, yet with the lowest cost for them."
About Cutting Edge Laser:
CEL Manufacturing was founded in 1995 as Cutting Edge Laser, Inc. with the objective of servicing Puget Sound's laser cutting and sheet metal fabrication requirements. From early on there was a commitment to equip the shop floor with the latest technology in metal processing equipment. Today, their services have expanded from laser cutting to sheet metal fabrication, machining, forming, welding, rapid prototyping, and design and engineer.
Cutting Edge Laser Inc
18620 141st Ave NE # A, Woodinville, WA ‎
http://www.celmfg.com
(800) 235-2595 ‎