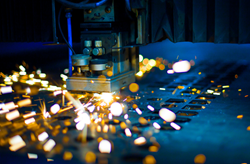 Welding is a highly useful service, but metal forming may sometimes be a far better choice for your metal project.
Woodinville, WA (PRWEB) August 25, 2014
"What is metal forming? How is this type of metal fabrication service different than cutting and joining methods, such as welding? How will metal forming change (or better) the outcome of my metal project?"
Businesses that are asking these kinds of common questions can find their answers in Cutting Edge Laser's recently released article, designed to help those considering metal projects understand the differences between two very diverse forms of metal fabrication — metal forming and welding.
While their article assures readers that welding is a highly useful and sometimes necessary service, it's their belief that high quality metal forming is often a better choice.
"Rather than pieces and bits of metal being cut and joined multiple times throughout a project, creating a look of a puzzle, metal forming allows one piece of metal to become a whole formed object," Cutting Edge Laser explains, "This jointless, seamless piece of metalwork not only has a wonderful strength to it, it also achieves a beautiful cohesive look."
Their article goes on to briefly explain the metal forming process in layman's terms, and describes the other various benefits of metal forming—such as the diminished cost of hours of labor and excess materials.
For more information on their metal fabrication services, including welding and metal forming, visit their website here.
About Cutting Edge Laser:
CEL Manufacturing was founded in 1995 as Cutting Edge Laser, Inc. with the objective of servicing Puget Sound's laser cutting and sheet metal fabrication requirements. From early on there was a commitment to equip the shop floor with the latest technology in metal processing equipment. Today, their services have expanded from laser cutting to sheet metal fabrication, machining, forming, welding, rapid prototyping, and design and engineer.
Cutting Edge Laser Inc
18620 141st Ave NE # A, Woodinville, WA ‎
http://www.celmfg.com
(800) 235-2595