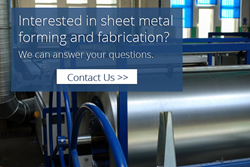 Our company is committed to equipping our shop floor with the latest cutting edge technology for metal processing.
Seattle, WA (PRWEB) August 11, 2014
"Anyone that has found themselves looking for the most professional, best quality, and highly expeditious metal production services on the market needs to look no more." This bold statement from Cutting Edge Laser is well backed by the release of their informative eBook, available for free download from their website.
The eBook addresses the questions that they are asked most often from businesses that come to them needing metal fabrication work done for their projects or products.
Questions such as, "How does metal fabrication work? Is laser cutting a better option for my metal project and why?" and more are all answered in their easy-to-read eBook.
They even provide a checklist that will help determine if sheet metal fabrication and laser cutting is the best fit for a designer's product.
Rather than being written in typical techno-language, the eBook uses laymans terms and simplified explanations of their procedures so that a businessman can understand the benefits of this particular services and have a basic comprehension of the service itself, so that they can easily realize the cost-savings and high quality that they will receive in the end.
For more information on Cutting Edge Laser's metal fabrication services, follow this link to their website: http://celmfg.com/.
"Our company is committed to equipping our shop floor with the latest, cutting edge technology for metal processing," says Cutting Edge Laser.
They work hard to stay on top of all new technology that's actually worth it's salt. "We choose the most effective and efficient technology, that while providing the best service for our customer, isn't incredibly expensive."
About Cutting Edge Laser:
CEL Manufacturing was founded in 1995 as Cutting Edge Laser, Inc. with the objective of servicing Puget Sound's laser cutting and sheet metal fabrication requirements. From early on there was a commitment to equip the shop floor with the latest technology in metal processing equipment. Today, their services have expanded from laser cutting to sheet metal fabrication, machining, forming, welding, rapid prototyping, and design and engineer.
Cutting Edge Laser Inc
18620 141st Ave NE # A, Woodinville, WA ‎
http://www.celmfg.com
(800) 235-2595