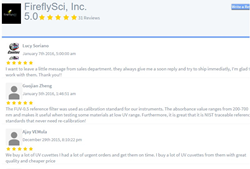 "FireflySci is constantly learning from its customers"
Brooklyn, NY (PRWEB) January 13, 2016
As the new upstart in the cuvette field, FireflySci, Inc is readying to celebrate its first anniversary in March. With only 10 months of operation, FireflySci has built an impressive arsenal of cuvettes, spanning the range of absorbance, fluorescence, colorimetry, light scattering, dye laser and many more. With an easy-to-navigate website featuring thorough descriptions, large, hi-definition photos and a library of instructional articles and videos, FireflySci is the primary cuvette authority on the internet.
Seeing large opportunities in the market, especially regarding quality, size of selection and customer service, the modus operandi of FireflySci is to educate its customers, provide almost anything a cuvette shopper may need and to make the customer experience as positive as possible. With an average rating of 5 stars across 31 customer reviews as of early January 2016, FireflySci is constantly learning and improving its customer service. With an average turnaround time of less than 24 hours for custom cuvette quotes and most orders shipping within less than 24 hours, the company puts a premium on keeping customers in the loop and happy.
FireflySci is constantly learning from its customers and when there is a gap in their product line they seek to provide off-the-shelf solutions for customers as quickly as possible. In the past few months, several new cuvette variants including HPLC flow cells, fluorescence tablet dissolution cells, Type 55 microscope flow through cells and several new disposable cuvette varieties are in stock and ready to ship. By its second anniversary, FireflySci plans to boast the largest cuvette selection in the world along with the largest calibration standards offering.
Every cuvette is made from the finest materials that the company can source. Materials such as Suprasil 3001, Suprasil 300, Corning 7740, Schott B270, and Schott Sapphire provide the backbone for FireflySci's premium quality cuvettes. The company is able to leverage its efficient manufacturing processes to provide these fine materials at very affordable costs.
With nearly 20 years of combined experience manufacturing and working in the UV/VIS and FTIR spectroscopy field, FireflySci's employees are able to relate very well with their customers. Knowledge is important but an even more critical factor is approachability and friendliness. While certain companies may have a wealth of information, if they convey it to their customers in an arrogant and standoffish fashion it's quite useless. Learning from the best customer service experience in a variety of fields, FireflySci strives to be both informative, approachable and, most importantly, human. Every time a customer calls they are guaranteed not to be put on hold or through a tedious phone system but rather directly put through to one of our skilled, friendly sales technicians.
One of the other ways, FireflySci helps out customers is by addressing almost every cuvette question that may arise. On a weekly basis, the company has been compiling a list of commonly asked questions and either producing instructional articles or videos to address these questions in a clear, intelligible manner. Relevant articles describing the materials we use, what certain concepts mean and how-to guides can be found underneath the "Recommended Reading" section of all FireflySci products.
As FireflySci celebrates its first year in business it is grateful for all of its customer support and looks forward to cementing its status as the world's foremost cuvette provider.