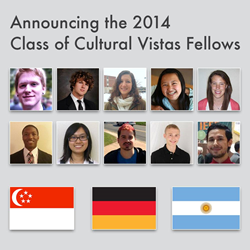 NEW YORK (PRWEB) May 27, 2014
Cultural Vistas is pleased to announce the selection of the 2014 class of Cultural Vistas Fellows.
This year, the Cultural Vistas Fellowship will provide 10 U.S. university students the opportunity to gain professional experience through eight-week summer internship and immersion experiences in Argentina, Germany, and Singapore.
The initiative is funded directly by Cultural Vistas as part of its commitment to afford more Americans opportunities for formative international experiences. The Cultural Vistas Fellowship aims to provide underrepresented U.S. university students the unique opportunity to advance their career goals, develop global competencies, and experience life in another culture.
"As a Cultural Vistas Fellow, I hope to see the differences and similarities in our vast world that connect us and tie us together in our common humanity. I'm excited to experience a new culture, immerse myself in a different way of life, and to explore unconventional avenues of learning and doing," said Colorado College student Esther Chan. "I hope that with my new experiences I can bring some new ideas back home and a better understanding of how we can have a truly sustainable community."
Now on its second year, the program will once again center on the theme of sustainability. In April, the group of 10 students began a virtual learning component of the program to prepare for their time abroad, learn about their host countries and each other, and to discuss relevant sustainability issues and best practices.
The group will convene in New York City on May 21 for a day-long orientation prior to traveling overseas. Of the 10 fellows, two will spend June and July living and interning in Buenos Aires, while four each are destined for summer experiences in Berlin and Singapore. For most of these students, this will represent the first time they have stepped foot outside the United States.
Upon returning stateside, the fellows will take part in a re-entry seminar in New York City to reflect and debrief on their time abroad and begin to further develop "Fellows in Service" activities that will aim to share the knowledge gained while abroad on their respective campuses and in their local communities during the fall 2014 semester.
The 2014 class of Cultural Vistas Fellows includes rising juniors and seniors representing nine institutions across the United States. All program-related transportation, accommodations, support services, emergency medical coverage, and internship placements are covered by the program.
For more information on the Cultural Vistas Fellowship, visit culturalvistas.org/cvfellowship..
About Cultural Vistas
A nonprofit organization, Cultural Vistas annually serves more than 5,000 students, professionals, and emerging leaders through career-focused international internships, educational study tours, language immersion and cultural exchange programs in the United States and around the world. – Learn more at culturalvistas.org.