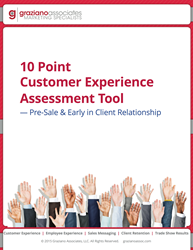 CX can positively or negatively affect the revenue, client retention and brand image of any size company, in any industry. - Denise Graziano, President of Graziano Associates
Fairfield, CT (PRWEB) August 27, 2015
Customer Experience intimidates many executives because they lack a strategy and an approach to harness the power of a positive CX. Yet they know this is an area to prioritize; Walker Research states that by 2020, CX will be the number one brand differentiator, over price and product. "CX can positively or negatively affect the revenue, client retention and brand image of any size company, in any industry," says Denise Graziano, President of Graziano Associates. To help companies shine a light on the often missed areas of client interaction, Graziano Associates has created a two-part CX assessment tool. Part one addresses 10 points of contact that should be monitored during pre-sale and early in the client relationship to establish a positive customer experience. Each point has a checklist of items to assess. Download the CX Assessment Part 1 here.
1. When prospects are first researching your company.
Just because you say your product or service solves a problem does not mean your prospects agree.
2. When they interact with your sales team across all applicable channels.
Messaging should be consistent, clear and offer real solutions across all channels.
3. When you exhibit at a trade show or other event.
For the best ROI at any show, proper planning and pre-show engagement to drive quality booth traffic are essential.
4. When a client first buys from you.
Every interaction you have with a client can yield a positive, negative or neutral response. Initial impressions set the tone for your overall brand image.
5. Within the first 7 days of working with your company.
Client retention efforts should begin at the start of the working relationship.
6. If/when they have a question.
Toss your scripts and give your service (and sales) teams the skills to solve problems, and resolve conflicts.
7. When they visit your website.
Both B2B and B2C customers expect more customization and personalization to maximize their experience working with companies.
8. When you engage via social media channels.
Know the SM channels that work best for your industry, market and clients; start and continue dialogs there.
9. When/if they receive a package from you.
An area that can be easily overlooked and yet is a part of the opportunity to create a positive, negative or neutral impact on a client.
10. When customers come on site.
People may not remember exactly what was said, but they will remember how an experience made them feel.
A company's lack of attention to their customers' experience can drive business away, which is known as Churn. According a 2014 Temkin Group study, 92% of customers are likely to repurchase a product from a company with a high CX rating, while 9% of customers who view companies as having poor CX will repurchase a product. "To ensure that your CX initiatives are focused and that you are preventing the Critical Churn TriggersTM which can derail your growth, you must be proactive ," says Graziano.
Unfortunately many companies are unsuccessful in their attempts to address CX on their own.
The causes range from misguided thinking about CX, a half hearted approach, poor imitations of others' actions, just assuming they are immune or not really understanding CX and the impact it has on their bottom line. The key is to begin now and not defer plans.
Ms. Graziano holds executive round tables in New York and Connecticut to help executives understand the importance of CX to the success of their company. In these small, high-level meetings, Ms. Graziano reveals her research on CX and executives learn and share their experiences. They also explore why many companies fail at CX when they attempt to address it on their own. She highlights 9 key areas that should be monitored to maintain growth.
To have Denise Graziano speak to your corporation or sales team regarding CX or Employee Experience, contact her at 203-254-0195. Denise Graziano is a leading authority in helping fast growth, mid-market companies to improve customer and employee experience. A strategic thinker and leader with over 28 years of business experience, Denise is a speaker and author of numerous articles on customer experience, client retention, sales, and trade show practices.
Founded in 1992, Graziano Associates helps fast-growing mid-market companies in the business-to-business market turn customer and employee interactions into opportunities — to deepen loyalty, improve engagement, and support sustainable growth.