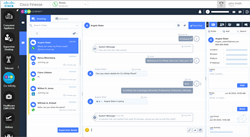 BETHESDA, Md. (PRWEB) May 26, 2020
This turnkey solution is a single box set up that integrates all digital channels – Webchat, Facebook, Twitter, WhatsApp, Text Message (SMS), Email, and Voice - over a single interface for an agent to accept communication without toggling through applications.
CX Infinity is a 360-degree solution for Cisco omnichannel contact center that embeds well within Finesse and allows to sync agent's profile and state from Cisco. To ensure that your contact center team meets the ever-evolving customer experience expectations, CX Infinity has a dedicated workspace for agents and supervisors.
Agent workspace offers

Personalized conversation with a 360-degree view of customer information
Consistent communication with interaction history displayed across platforms
Reduced handle time with canned responses and wrap-up codes
Resolve queries faster with a pre-built case management tool
Informed agents for a quality conversation with a built-in knowledge base
Optimized agent performance with a unified interface for handle conversations across channels
Supervisor workspace offers

Agent management and control over interaction distribution for quality conversation
Real-time performance monitoring, survey and wrap-up reports and more
Real-time assisting agents with barge-in features
Amit Gandhi, CEO CX Infinity and NovelVox says, "According to a survey, strong omnichannel customer engagement makes companies retain 89% of their customers. And, we always want businesses to offer exceptional engagement and grow their customer base. CX Infinity for Cisco contact center is an exclusively designed integrated solution for Cisco to drive the highest level of customer engagement with optimized agent productivity. It empowers Cisco UCCX and other contact centers to transform the way customers interact with business and define an all-new level of experience over digital channels and voice. An agent can start any conversation across digital channels with context continued even when switching platforms – delivering the right information at the right time."
CX Infinity is a single-box solution that comes with easy installation. Its quick implementation allows you to go live in a few days. This end-to-end solution can be installed on-premise or cloud.
About CX Infinity
CX Infinity is the business messaging and customer engagement platform to connect with the customer at the right time over the right channel. It's an integrated and optimized solution that speaks of trust and technology carried for 11 years with NovelVox in the contact center industry. With 98.7% of customer retention and over 70 3rd party integration, NovelVox has launched CX Infinity that offers infinite scalable and flexible solutions for instant customer support, sales, and marketing over a unified console allowing a switch between channels but not screen/applications. CX Infinity solution caters to businesses of all sizes, including Enterprises and verticals.