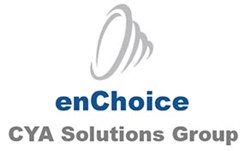 CYA Extender can significantly reduce the storage costs associated with CYA SmartRecovery content backups.
Tempe, AZ (PRWEB) January 14, 2014
enChoice®, Inc. announced today that its CYA Extender tool for CYA SmartRecovery™ now supports EMC® Documentum® customers using IBM® Tivoli® Storage Manager (TSM). CYA Extender reduces storage costs by enabling content backups performed by CYA SmartRecovery to bypass expensive disk storage and be streamed directly to TSM or Symantec NetBackup™.
CYA SmartRecovery performs hot, consistent backups of repository content and metadata. It is the only solution enabling organizations to quickly recover from operational incidents such as user errors, programmatic errors, and metadata corruption by quickly recovering just the affected information to its original state in the repository without taking Documentum offline. CYA SmartRecovery also improves recovery point objectives by working seamlessly with enterprise backup solutions to reduce the Documentum data loss window to just 15 minutes in the event of a full system failure.
"Enterprise content management systems are being used to handle unprecedented volumes of data, and as a result, storage costs are rapidly rising," said Mike Fernandes, vice president, products, enChoice. "By using CYA Extender in conjunction with CYA SmartRecovery, Documentum customers can significantly reduce the storage costs associated with CYA content backups by leveraging economical storage on their existing enterprise backup systems."
CYA SmartRecovery and CYA Extender are available for EMC Documentum and IBM FileNet® P8 enterprise content management (ECM) systems. For more information, visit http://www.cya.com.
About enChoice
enChoice®, Inc. deploys, supports, administers, maintains and protects enterprise content management (ECM) solutions. We deliver solutions for Underwriting, Accounts Payable, Claims and Human Resources that can be deployed on premises, hosted, or via the cloud. enChoice also provides ECM-aware hot backup and operational recovery solutions that work seamlessly with system-level backup systems to optimize efficiency, facilitate compliance and protect against information loss. The company offers remote system administration, as well as single-point-of-contact support for current and legacy systems.