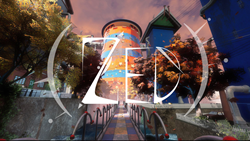 SPOKANE, Wash. (PRWEB) February 26, 2019
Cyan Ventures, the publishing arm of Cyan, Inc, the legendary indie studio that created best-selling classics, ​Myst ​and ​Riven​, today announced the release of the trailer for ​ZED​. The trailer reveals the game's exploration of an artist suffering from dementia and trying to uncover enough memories to leave a lasting legacy.
"This game is very personal to me," said Chuck Carter, founder of Eagre Games. "I had a dear friend and mentor pass a few years back. He suffered from dementia in those final years and my visits to him became the inspiration for ​ZED​. This is not his story, but a broader cautionary tale of not waiting till the end to examine your life."
"​ZED​ is just the type of game Cyan Ventures wants to publish," said Rand Miller, CEO, Cyan. "We formed Cyan Ventures because we believe that now is the time to experiment and explore the new possibilities in VR storytelling. Chuck's very emotional exploration of an artist's struggle to examine the meaning of his life through the fog of dementia is a provocative approach to narrative gameplay. We're very excited to have a part in bringing ZED's moving and inventive narrative to VR and PC."
ZED ​is the story of an artist suffering from dementia -- desperately trying to reconnect fragmented memories. The player explores the dreams of the artist's crumbling mind in hopes of helping him assemble enough meaningful images to leave behind a loving memento and final legacy for his granddaughter. The experience blends adventure, a rich narrative, stirring sentiment, and fanciful world exploration.
ZED ​is the vision of Chuck Carter, developed in association with Skymap Games and co-written by Joe Fielder (​Bioshock Infinite,​ ​The Flame and the Flood​) and David Chen (​Metal Gear Solid ​series,​Narcosis​). The game features compelling voice over work from an outstanding cast, including a riveting performance from veteran voice actor Stephen Russell (the ​Thief, Skyrim ​and ​Fallout ​series).
ZED ​is scheduled for release spring of 2019 and will be available for PC, Rift and Vive.
About Eagre Games
Eagre Games was founded by long-time game developer Chuck Carter (​Myst,​ ​Command and Conquer series, ​Emperor: Battle for Dune​, ​Marvel Ultimate Alliance 2​). Based in Ellsworth, Maine, outside of beautiful Bar Harbor, the studio was created to advance new and compelling narratives in the PC game and VR markets.
About Cyan
Cyan is a legendary indie games studio headquartered in Spokane, Washington, best known for award-winning games ​Myst ​and ​Riven.​ Cyan celebrated the 25th Anniversary of ​Myst ​last year with a special collectors edition of the complete series sold exclusively on Kickstarter and the formation of Cyan Ventures to help foster and support indie developers in the creation of innovative VR narrative experiences. Cyan is currently working on its next VR adventure game, ​Firmament​.​ ​For more information, visit ​http://www.cyan.com​ and/or ​http://www.firmamentgame.com​.
ZED Release Trailer
https://youtu.be/6C1gOWtjQTQ
ZED Press Kit
https://drive.google.com/drive/folders/1Z1d3fhTP2vyolir1gC31TKc35X5IJd2y?usp=sharing