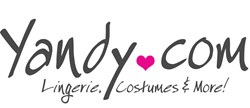 Phoenix, Ariz. (PRWEB) December 02, 2013
Cyber Monday sale items are flying off of the shelves at Yandy.com, online retailer of women's lingerie and apparel, and with the overwhelming demand for deals the e-commerce site has decided to announce 30 new last minute deals for bargain hungry shoppers.
Yandy is known for offering the largest range of lingerie and costumes on the web at the most affordable prices and with drastically reduced prices released during Cyber Monday customers flocked to the site. With so many shoppers jumping on the deals at Yandy.com, the site decided to announce 30 new last minute deals for shoppers who may have not had a chance to shop the original promotion. The new deals include items up to 70 per cent off with some products available for as little as $4.95.
Yandy.com's original Cyber Monday deals are still going on as well. The Cyber Monday sale includes more than 2,000 items up to 80% off, 10% off sexy Santa costumes, $2 doorbuster bras, $2 doorbuster panties, $14.95 clubwear dresses and $15.95 light-up ravewear items.
In addition to these promotions, all Yandy shoppers will receive a free panty with every order and every order placed for more than $70 is eligible for free, flat rate shipping.
To shop these last minute deals, customers may visit Yandy.com here. These offers are available for a limited time only, supplies are limited and are not valid with additional promotional codes.
About Yandy.com
E-commerce is on the rise and Yandy.com is one of the largest online retailers of lingerie, sexy Halloween costumes, swimwear and clothing on the web. Founded in 2003, Yandy boasts more than 6,500 products always in stock at easily affordable prices. Yandy ensures that every costumer will receive a safe, secure and private online shopping experience and is backed by COMODO online security and Google Checkout. Yandy is dedicated to customer service and only sells what is in stock which allows for quick, same day shipping. Offering the highest quality products at the most affordable prices in the market, Yandy has become a leader in ecommerce. Yandy works closely with all of the manufacturers they distribute for and hand select all of the items on the Web site to ensure customers have the largest and most diverse collection to choose from. In addition, the customer service team at Yandy is unrivaled. With attentive and helpful operators, should a question or problem arise, the customer service team at Yandy is always willing and able to assist. At Yandy, every customer can Be Sexy.