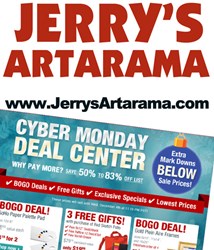 We know how exciting this time of year is, and we want to provide shoppers with the most convenient experience so we will be giving our online customers great deals and lots of extras
Raleigh, NC (PRWEB) December 02, 2013
Jerry's Artarama, the premier supplier of fine art supplies and materials is announcing their groundbreaking Cyber Monday Art Supply Sale starting Monday December 2nd. Only at jerrysartarama.com will you find amazing savings and deals with thousands of items. Why pay more when you can save 50% to 85% off list price on top name brands such as Winsor and Newton, Sennelier, Charvin, SoHo Urban Artist, LUKAS, Mungyo, Faber-Castell and many more.
Starting Monday, December 2nd through Midnight on Wednesday, December 4th, Jerry's Artarama online superstore will offer incredible value and savings on thousands of art supplies and gifts across the site as well as stunning deals and giveaways on certain purchases.
"To help customers and shoppers save even more money, we've pulled out all the stops and want to provide amazing values to the artist community this holiday season," said Mike Marchetta, Director of Marketing for Jerry's Artarama. "We know how exciting this time of year is, and we want to provide shoppers with the most convenient experience so we will be giving our online customers great deals and lots of extras. We've put a lot of work into making this week special."
These extras include free gift giveaways, coupons, buy-one, get-one deals, and free shipping on certain purchases while supplies last. Jerry's Artarama expects this to be one of their biggest weeks of sales this year and will even offer special deals and offers on their Facebook, Twitter and other social media pages.
The sale runs from Monday to Midnight, Wednesday and will be the best chance to find unbelievable values on art supplies and materials and can only be found at Jerrysartarama.com.
About Jerry's Artarama
Jerry's Artarama is a national retailer of art materials and supplies headquartered in Raleigh, N.C with 17 physical locations throughout the United States and a very popular online store. Today, Jerry's offers more than 70,000 top-quality art supplies and materials at direct savings- as much as 75% off traditional retail on products from the industry's leading art manufacturers, as well as Jerry's own exclusive product lines via the online retail store, art supply catalog and Jerry's Artarama Superstores. In addition, Jerry's Artarama serves as an artist resource by offering instructional workshops, new art supply demos and special art related events, including the Art of the Carolinas Tradeshow, an annual event held in Raleigh. For more information, visit http://www.jerrysartarama.com.