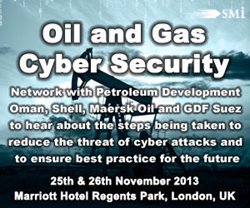 London (PRWEB UK) 20 October 2013
SMi's 3rd annual Oil and Gas Cyber Security Conference and Exhibition, taking place on 25-26 November in London, will feature presenatations highlighting developments in cyber security protection of highly valuable intellectual property and commercially sensitive information on production, exploration plans and assets. The two-day event will address efforts to improve current security measures and assess institution-specific business variables to develop customised system architectures that are cost-effective and flexible. Insight will also be provided into next-generation tools and information necessary for building cyber security action plans used in oil and gas critical infrastructure protection, as well as best-in-class intrusion response tactics.
Preview of Key Presentations includes:

How the O&G Industry is identifying and mitigating threat vectors
Claudio Lo Cicero, Head of Global Information Security, Maersk Oil
From traditional Information security to an IS multilayer management Model - PDO IS Journey
Fathiya Al Farsi, Head IM&T Risk Management, Petroleum Development Oman
Phil Jones, Security and Resilience Manager, GDF Suez
PLUS - Don't miss the post-conference workshop on: Collaboration in industrial cyber security: a key aspect of CIIP | 27th November 2013, London, UK
Led by: Samuel Linares, Director, Industrial Cybersecurity Centre
To view the full speaker line-up and complete two-day programme, visit http://www.smi-online.co.uk/2013cyber-security17.asp.