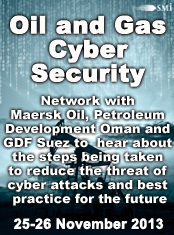 London (PRWEB UK) 10 November 2013
Cyber attacks in the oil and gas industry can have detrimental effects on process control networks and related systems which could destabilise supply capabilities, endanger personnel and result in environmental damage. New vulnerabilities have been introduced with the migration to IT components such as general-purpose computing platforms, standard operating systems, in addition to the introduction of networking technology like TCP/IP & Ethernet in the SCADA environment and integration of business and process control networks.
Against this backdrop, SMi's 3rd annual Oil and Gas Cyber Security conference will address the need to safeguard commercially sensitive information on production, exploration plans and assets through global updates delivered by senior cyber security professionals from Maersk Oil, Petroleum Development Oman and GDF Suez. The two-day conference programme will build on the success of the 2012 event by addressing new compliance regulations, technological advances, penetration testing, increased investment and improvements to SCADA systems.
Speaker Panel includes:

Claudio Lo Cicero, Head of Global Information Security, Maersk Oil
Fathiya Al Farsi, Head, IM&T Risk Management, Petroleum Development Oman
Phil Jones, Security and Resilience Manager, GDF Suez
Annemarie Zielstra, Director International Relations Cyber Resilience, TNO
Auke Huistra, Project manager National Roadmap to Secure Process Control Systems and Lead Workforce Development Thematic Group ICS and Smart Grids, ERNCIP
Geir Arild Engh-Hellesvik, Senior Manager, Technology Risk Services, BDO Norway
Andrea Rigoni, Director General, GCSEC Global Cyber Security Center
Edward Hamilton, Head of Threat and Vulnerability Management, PricewaterhouseCoopers
To view the full speaker line-up and complete two-day programme, visit http://www.smi-online.co.uk/2013cyber-security88.asp.