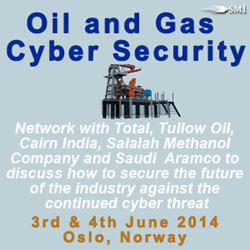 Oslo (PRWEB UK) 28 March 2014
Oil and gas companies now are heavily investing in establishing the most comprehensive security systems for their assets and digital infrastructures, with spending set to reach $1.87 billion by 2018. Managing security of networks and wireless communication systems, as well as defending IT infrastructure from external virus attacks and internal compatibility threats is a top priority. SMi's 4th Oil and Gas Cyber Security conference, taking place on 3-4 June 2014 in Oslo, will address the most pressing cyber security issues facing the oil and gas sector with key presentations delivered by senior industry figures from Total, Salalah Methanol Company, Tullow Oil, Cairn India, and Saudi Aramco among others. The programme will build on the success of the 2013 event by discussing recent efforts to bolster protection of highly valuable intellectual property and commercially sensitive information on production, exploration plans and assets through project updates, case studies, live demonstrations, panel debates and technology sessions.
Key presentations at SMi's 4th Oil and Gas Cyber Security conference include:

Industrial Systems – Practical Security
Ewen MacDonald, Lead Instrument and Systems Engineer, Total

If you can spot it, you can stop it – defending against new norm
Spencer Summons, Head of Information Assurance and IS Governance, Tullow Oil

The cyber security indicator
Ammar Qatan, Information Technology Manager, Salalah Methanol Company

Securing the unsecured with eyes wide open
Gomeet Pant, Information Security Manager, Cairn India

Industrial Control Systems Security
Bandar Mesned Al Saifi, Data Network Engineer, Saudi Aramco
To view the full speaker line-up and complete two-day programme, visit http://www.smi-online.co.uk/oilandgas-cybersecurity10.asp.
In addition to the two-day conference, networking opportunities will be extended to include two interactive workshops taking place on 5 June:
A: Network monitoring and Situational Awareness for Oil and Gas OT infrastructure | Led by Dr Damiano Bolzoni, Chief Operating Officer, SecurityMatters | 08.30-12.30
B: Cyber Security Incident Handling for Oil and Gas | Led by Dr Siv Hilde Houmb, CEO and CTO, Secure-NOK AS | 13.30-17.00