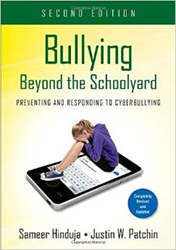 Sameer Hinduja and Justin Patchin seemlessly weave the latest research with riveting examples from the frontlines of cyberbullying. -Suzanne W. Peck, Author
PALM BEACH GARDENS, FL (PRWEB) November 20, 2014
The release of the latest edition of the best-selling and award-winning "Bullying Beyond the Schoolyard: Preventing and Responding to Cyberbullying" by Dr. Sameer Hinduja and Dr. Justin W. Patchin (co-directors of the Cyberbullying Research Center) could not be more timely: October was National Bullying Prevention Month.
The release of this edition and this issue will be discussed in detail at the International Bullying Prevention Association's 11th annual conference being held this week in San Diego. After studying more than 15,000 middle and high school students over the past decade, their work has found that 25% have been cyberbullied at some point, while around 16% have cyberbullied others. They also identified numerous challenges faced by those who are bullied, including low self-esteem, suicidal ideation, anger, frustration and various emotional and psychological problems, academic issues, anti-social behavior, substance abuse, and delinquency. Most importantly, they sought to determine what is actually working in classrooms, schools, and communities to deal with the problem.
This new edition of Bullying Beyond the Schoolyard has been completely updated with new research and evolving best practices for cyberbullying identification, prevention, and response. In addition to incorporating personal voices and viewpoints from teens affected by or involved in these incidents, as well as those on the front lines dealing with online aggression, the book also contains several valuable in-text features to help reinforce the key concepts, including the following:

Dozens of breakout boxes highlighting dozens of important strategies you can implement
Review of the latest research in this emerging area
Summary of important legal rulings, and what they mean to you
Discussion of the responsibilities of school personnel, and how that translates to policy and programming
Warning signs to help identify cyberbullies and their targets
Guidance on how educators, parents, students, and law enforcement can work individually and collectively to prevent and respond to cyberbullying
Practical resources, including an assessment instrument, incident tracking form, technology use contract, cyberbullying report card, numerous scenarios for discussion, questions for reflection after each chapter, and comprehensive staff development questions
While working on the book, Dr. Hinduja and Dr. Patchin spoke to countless teachers, school administrators, counselors, law enforcement officers, parents, and many other youth-serving adults who have been grappling with the complications that arise from these incidents. Interestingly, they found that most simply improvised and "did their best," because not much was known about how to properly handle these unique cases. Since there are so many gray areas in terms of cyberbullying prevention and response, the authors knew they had to build and share a concise body of knowledge that could truly encourage, empower, and equip those wrestling with this problem among adolescents. Written in an accessible and informal tone by leading experts in the field, this book is doing exactly that.
"This is an excellent resource that clears up much of the confusion and sometimes hysteria generated in the media on cyberbullying. It provides prudent and do-able strategies from crafting policies, to investigating and responding to incidents. Most importantly, it provides the right mindset and philosophy for helping schools prevent the problem in the first place and for empowering all members of the school community to work together. Policymakers, administrators, teachers, parents, and students would all benefit from the knowledge contained in this book." - Jim Dillon, Author of No Place for Bullying and Director of the Center for Leadership and Bullying Prevention, Measurement Incorporated.
"In a society that is grappling with the ramifications of the rapid pace of technological advancement, cyberbullying has emerged as a serious issue in education. This book provides real-life scenarios, timely data, and best practices to help school leaders protect the children and adolescents in their schools. All educators will find these resources useful in detecting and preventing cyberbullying and ensuring the safety of students." - Gail Connelly, Executive Director, National Association of Elementary School Principals
"Hinduja and Patchin are two of the most respected researchers on cyberbullying, and their in-depth research lays the foundation for this book. This book contains the best practices that principals can implement at their schools to prevent and respond to acts of cyberbullying." - Gerald N. Tirozzi, Executive Director, National Association of Secondary School Principals.
Bullying Beyond the Schoolyard: Preventing and Responding to Cyberbullying is available on Amazon, Barnes & Noble, and many other booksellers. The Cyberbullying Research Center provides up-to-date information about the nature, extent, causes and consequences of cyberbullying among teens. Go to http://www.cyberbullying.us to learn more.